Call for more action on widening university access in Scotland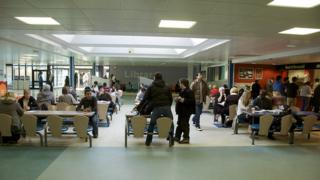 Progress is being made but increasing the number of university students from deprived backgrounds remains a challenge, according to a new report.
New figures suggested more people from deprived areas started university in 2012 - a rise from 12.3% to 13.3%.
Widening access to universities is a priority for the Scottish government.
The figures come in a report from the Scottish Funding Council (SFC), which welcomed the rise but said more needed to be done.
The report said that about 33% of new entrants to universities in 2012 came personally from the lower socio-economic groups - a very slight drop on 2011.
Successful outcomes
In 2013 - which is not covered by this report - new agreements came into force between universities and the SFC, which funds places for Scottish students at colleges and universities, to help increase the number of students from deprived areas.
At the end of last year, the SFC invested £10m to help widen access to higher education for students from poorer backgrounds.
The money helped to create around 2,000 extra university places - with more than half of these designed to help young people move on from college to university.
The body that represents all Scotland's universities - Universities Scotland - welcomed the 2012 figures.
Alastair Sim, director of Universities Scotland, said: "The Scottish Funding Council's statistical report on widening access out today is helpful and well-rounded because it looks at the issue across schools, college and university which is exactly the holistic approach that Scotland needs to take to this complex and important issue.
"It also looks at widening access alongside retention which is very important to universities; a drive to widen access must be inseparable from the drive to ensure those students achieve successful outcomes.
"The report brings good news, with progress across every measure of widening access to university, articulation into university from college and rates of retention."
He added: "What's more, this data is time-lagged so the figures do not yet take into account the additional places that were created specifically for SIMD40 entrants and that came into effect the year after this data report. We'd expect to see a step-change in next year's data."
Laurence Howells, SFC chief executive, said: "Scotland's colleges and universities are welcoming a more diverse range of people than ever before and helping them to succeed in their studies and in their lives beyond education.
"Today's figures also show that more students are going on from college to study at university."
Critics may argue that the latest figures suggest the abolition of tuition fees has done little to actively help widen access, adding to claims that free university tuition is a "middle class benefit".
Students from other parts of the UK pay fees of up to £9,000 a year.
However, supporters of the policy have argued that free tuition is a point of principle which removed a barrier to entry.
They also said that helping more people from disadvantaged areas and backgrounds get to university requires a wide range of measures, stretching back to primary schools.
These include helping to raise the academic achievement of school pupils, personal mentoring and outreach schemes.
Education Secretary Michael Russell said: "I am very pleased to see our ongoing commitment to open up further and higher education to students from all backgrounds is making a difference.
"We have been clear that the ability to learn rather than pay is at the heart of our system and we are committed to reducing the barriers that prevent people continuing in education."
'Shared responsibility'
The figures also highlighted the low proportion of youngsters from disadvantaged areas gaining top exam results.
In 2012, only 4.3% of pupils from the 20 most disadvantaged postcode areas achieved 3 As at Higher and Advanced Higher level compared with 26.1% of pupils from Scotland's most affluent postcode areas.
Mr Sim said: "One of the most striking things in this report is the data which shows a vast attainment gap between the richest and poorest pupils when it comes to achieving Highers and Advanced Highers.
"To widen access successfully you need to take a life-cycle approach from the early years, involving parents, throughout primary and secondary school, college and beyond, creating second chances for those that want them.
"The drive to widen access needs to be considered as well as concerted; informed by evidence of what works, sharing of best practice and a collaborative approach to a challenge we all face."
He added: "Scotland will see greater progress by acknowledging that widening access to university is a shared responsibility and one that all partners need to work together to address."
NUS Scotland described some of the figures in the report as "encouraging" but called for "proper financial support" to ensure more students get to university and "stay there".
Gordon Maloney, NUS Scotland president, said: "While the report shows that we started from a low base, it's a strong foundation to build on.
"With legislation on fair access and extra investment in place, we have a strong, national framework in place.
"It's vital that every institution, old and new, now does all they can to turn that into strong, local efforts to boost fair access even further."
He added: "Through the upcoming Scottish budget, we'll be pushing hard for increased grants for the poorest students, along with continued increases in support levels to match the rising costs of living."