Remembrance Sunday services take place in Scotland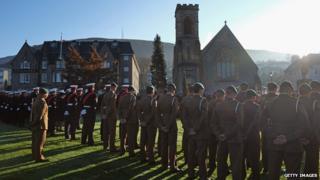 People across Scotland have taken part in a two-minute silence to remember those who have died in conflicts.
Services have taken place in villages, towns and cities at 11:00 as part of Remembrance Sunday.
Scottish Secretary Alistair Carmichael and First Minister Alex Salmond have attended a service at Edinburgh's St Giles Cathedral.
Deputy First Minister Nicola Sturgeon was in Glasgow for a ceremony in George Square.
This year's services have an added significance, with the 100th anniversary of the outbreak of World War One.
During the service at the Stone of Remembrance at Edinburgh's City Chambers, Mr Salmond laid a wreath.
The children's wreath was placed down by 10-year-old Meghan Mathews, whose father was killed in Afghanistan while trying to help an injured boy.
Officers and sailors from the German navy also took part in Edinburgh's ceremony for the first time.
Commander Ivo Schneider laid a wreath at the Stone of Remembrance. The Brandenburg frigate is currently berthed at Leith on a routine visit.
'Respect and appreciation'
Mr Carmichael, speaking ahead of the event in Edinburgh, said: "In cities, town squares, villages and communities across Scotland, people will pause for thought and remember those who have fallen serving their country with honour and distinction.
"This year's Remembrance Sunday service has particular significance in a year when Scotland has been front and centre of the commemorations to mark 100 years since Britain entered World War One and 70 years since we stood shoulder to shoulder with our allies on the beaches of Normandy."
Mr Salmond added: "The people of Scotland will always honour, with respect and appreciation, the memory of those who made the ultimate sacrifice on our behalf.
"Scotland, in common with so many other nations, suffered an appalling loss of life in the Great War, and its effects on Scottish life were profound and long-lasting. Not one single community was untouched by the conflict, and rural Scotland suffered particularly severe losses."
Parades have taken place in Edinburgh and Dundee, while George Square was the centre of services in Glasgow. An event at the King's College Chapel was amongst the acts of remembrance in Aberdeen.
Bob Samson, a relative of WW1 Victoria Cross winner George Samson, was one of many Scots who took part in ceremonies.
He laid a wreath in the VC winner's honour at a service in Carnoustie.
Scottish landmarks including the Scott Monument, Aberdeen Exhibition and Conference Centre and The Kelpies were also illuminated with lights as part of the commemorations by Poppyscotland.