Scottish police seek to increase links with Polish officers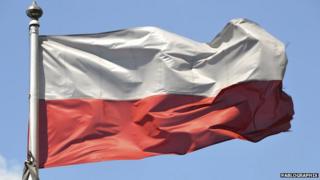 Police Scotland have said they want to increase links with officers in Poland.
The move comes as part of efforts to tackle incidents involving the migrant community.
Poles are the largest migrant group in Scotland - according to the 2011 census, there are more than 55,000 Polish-born people living in Scotland.
Senior officers already co-operate with law-enforcement agencies in Warsaw on matters of crime and missing person inquiries.
Deputy Chief Constable Iain Livingstone said: "We have an increasingly diverse workforce. We have a number of officers recruited who, for example, have Polish ancestry or were born and raised in Scotland.
"But we are taking some pro-active work to link in with colleagues in Warsaw - focusing on Poland because of the number of economic migrants - to get some Polish officers over to work with us in Scotland."
In the past, London's Metropolitan Police have seconded officers from other countries to help tackle crime.