World War One at Home: How Harry Lauder's war tragedy spurred him on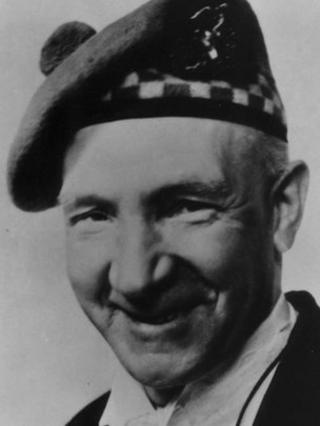 During World War One, famous Scottish entertainer Harry Lauder used his global success to recruit thousands of men for the war effort.
He also established the Harry Lauder Million Pound Fund to help the war injured and in 1919 he was awarded a knighthood for his contribution.
However, Sir Harry experienced great personal tragedy when his only son, Captain John Lauder of the Argyll & Sutherland Highlanders, was killed during the last months of the Battle of the Somme.
The famous entertainer erected a memorial in memory of his son near the family home on the Glenbranter Estate in Argyll.
Harry Lauder had been born in Edinburgh but also lived in Arbroath and Lanarkshire during his childhood.
By the outbreak of World War One in 1914, he had risen from his origins singing for miners in Hamilton to become one of the most successful variety theatre performers in the world, with a string of popular songs including I Love a Lassie and Roamin' in the Gloamin.
He had toured America on a number of occasions and was top of the bill at Britain's first Royal Command Performance in 1912.
The star, who was 44 at the start of the war, was in Australia when the conflict began and his son John, who was with him, was called back to join his regiment and prepare for the battle in France.
Lauder continued his tour and when he returned to the UK he led successful fundraising efforts for war charities and organised a tour of music halls for recruitment purposes.
Lauder historian Archie Foley told World War at Home that the variety theatre star formed the Harry Lauder Recruiting Pipe band which toured Scotland and the north of England for several months.
"He dressed them up, he bought the instruments and all the accoutrements and paid all their expenses," Mr Foley says.
"At the end of the performance they would end the march at the recruitment office."
By the autumn of 1916, Lauder was performing at Shaftesbury Theatre in London in a revue called Three Cheers.
He had written a song called The Laddies Who Fought and Won, about boys coming home from the war, which he performed at the end of the show.
"When he sung this song, coming to the climax a group of Scots guardsmen would march on to the stage in full dress uniform to form a backing and then the curtain would come down," says Mr Foley.
"At the end of his theatre performance he would make a stirring speech addressed to the young men in the audience asking them, or more-or-less telling them, to go and sign up."
During his Three Cheers run, on New Year's Day 1917, Lauder received a devastating telegram telling him that his son had died in action a few days earlier.
A despairing Lauder wrote it had felt like "everything had come to an end" and "the board of life was black and blank".
Yet three days later, Harry Lauder was back on stage after his wife had convinced him the show, which employed about 300 people, must go on.
"He carried on until he came to The Laddies song then he faltered at one part of the song which describes how the fond mother kisses her son," says Mr Foley.
"But he finished it and the guards came on as usual. As the curtains closed, he fainted."
Despite his son's death he continued to rally support for the war.
After finishing his London run, Lauder badgered the War Office to let him go to France to entertain the troops.
He left Folkestone in June 1917 and took with him a "specially-built mini piano" and thousands of cigarettes for the troops.
Mr Foley says: "His first concert was back behind the lines in Boulogne but then he set off towards the front line. Stopping to give concerts on the way.
"He reckoned that they gave six performances every day.
"The route he took was designed so they would get to where John was buried."
Lauder had hoped to find out more about the death of his son.
He and his wife had been told that John Lauder went up the trench ladder to look over the parapet and was shot by a German sniper.
"But not long afterwards, I don't know when the story first started being spread, it was said that Captain Lauder had been shot by one of his own men," says Mr Foley.
"That persists to the present day. There are some who publish this and impute that John Lauder was unpopular.
"Harry Lauder was very grieved by this."
In his book A Minstrel in France, Lauder gives a very moving description of being at his son's grave
He says: "As I lay there on that brown mound, under the June sun that day, all that he had been, and all that he had meant to me and to his mother came rushing back afresh to my memory, opening anew my wounds of grief.
"I thought of him as a baby, and as a wee laddie beginning to run around and talk to us. I thought of him in every phase and bit of his life, and of the friends that we had been, he and I! Such chums we were, always!
"And as I lay there, as I look back upon it now, I can think of but the one desire that ruled and moved me.
"I wanted to reach my arms down into that dark grave, and clasp my boy tightly to my breast, and kiss him. And I wanted to thank him for what he had done for his country, and his mother, and for me."
Lauder was knighted in January 1919 for his services to the war effort.
His friend Winston Churchill, a government minister during WW1 and prime minister in WW2, later stated that Lauder, "... by his inspiring songs and valiant life, rendered measureless service to the Scottish race and to the British Empire".