Health secretary Alex Neil calls for hospital 'safety huddles'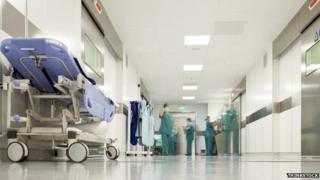 Workers should hold a "hospital safety huddle" every morning, Health Secretary Alex Neil has said.
The aim of the huddle is to identify risks and challenges to patient safety in the day ahead.
It was pioneered by Cincinnati Children's Hospital in the US and has already been taken up by Edinburgh Royal Infirmary and all three paediatric hospitals in Scotland.
The proposal is part of an ongoing drive to improve patient safety.
Mr Neil said he thought all acute hospitals - those intended for short-term medical care or surgical intervention - should adopt the huddle.
"Last year, I had the privilege to visit Cincinnati Children's Hospital and see their hospital safety huddle - a morning meeting of all those involved in providing care to plan the day, identify risks and challenges and work collectively and collaboratively to deliver the best care possible," he said.
"I am delighted to see that that concept is being spread across Scotland, first in all three paediatric hospitals and more recently in Edinburgh Royal Infirmary and both of the hospitals in Ayrshire and Arran."
"This is a fine example of the type of best practice I want to see rolled out to all acute hospitals in Scotland."
'Safe as possible'
The huddle is a part of an ongoing push to improve patient safety, which will be outlined by Mr Neil at a Scottish Patient Safety Programme conference in Edinburgh.
The Scottish Patient Safety Programme was introduced in 2008 and is led by Healthcare Improvement Scotland.
Its director of safety and improvement, Ruth Glassborow, said progress was being made "across the length and breadth" of Scotland.
"From an initial focus on adults in hospitals the programme now extends to primary care, mental health, maternity, neonates and children's services," she added.
"All with a focus on ensuring services are as safe as they possibly can be for every person, every time."