Academic work named Saltire Book of the Year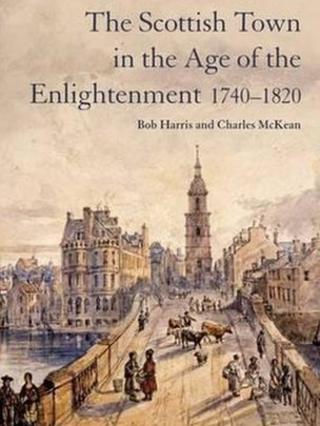 An exhaustive piece of academic research looking at Scottish urbanisation in the 18th century has won the Saltire Book of the Year Award.
The Scottish Town in the Age of Enlightenment 1740-1820 was co-authored by history professors Bob Harris and the late Charles McKean.
Broadcasters Sally Magnusson and Kirsty Wark were among other writers shortlisted for the prestigious title.
Prof Harris received the £10,000 cash prize at a ceremony in Edinburgh.
Andrew McKean, the son of the late Prof McKean, collected the award on his behalf.
The winning book - which was the result of an extensive three-year research project - explores how 18th century burghs improved themselves and the significance of this for modern understanding of a society in a state of transition.
Judges described it as a "magisterial" and a "pioneering study".
Prof Harris said: "To win this award in a country with such a rich tradition of writing, making and reading books is a huge honour, and also a wonderful way to mark the major contribution made by my co-author, Charles McKean, to understanding Scotland's very distinctive urban and architectural history."
Category winners
The Saltire Literary Awards are organised by the Saltire Society, a non-political independent charity founded in 1936.
The shortlists, announced last month, cover history, poetry, research, literature and first book, with each award worth a £2,000 prize.
Alongside the overall winner, five category winners were announced:
First Book of Year - Moontide by Niall Campbell
History Book of the Year - Scottish Gods, Religion in the Modern Scotland 1900-2012 by Steve Bruce
Literary Book of the Year - How to be Both by Ali Smith
Poetry Book of the Year - Bones and Breath by Alexander Hutchison
Publisher of the Year - Sandstone Press
Executive director of the Saltire Society Jim Tough said: "The Saltire Literary Awards have a proud history of celebrating and bringing wider attention to excellence in all literary forms.
"This year exemplifies that commitment.
"The judging panels were deeply impressed by the quality and range of books that made it onto the 2014 shortlist.
"From poetry and plays to novels and non-fiction, extending the length and breadth of the country and far beyond, this year's shortlist is a testament to the outstanding calibre of modern Scottish literature in all its varied forms."
Inverness-born author Smith said she was delighted with her award.
She said: "I am over the moon, especially after such a shortlist. I can't believe my luck. Thank you."