'School at six' debate welcomed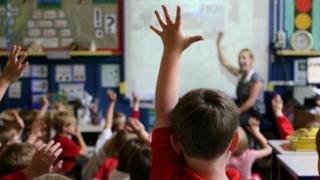 Scotland's Education Secretary Michael Russell has said he welcomes the debate on whether children should start school at the age of six.
His comments came after Holyrood's education committee was told that it was one of the "imaginative ideas" considered by cash-strapped councils.
Mr Russell said he would judge any changes on whether they would improve the educational experience of children.
Union leaders warned the move should not be seen as a cost-cutting exercise.
The debate was kicked off by John Stodter, general secretary of the Association of Directors of Education in Scotland, who told the Holyrood committee of ways in which councils were thinking differently about how to deliver schooling.
These included increasing the school starting age to six. Pupils currently start school when they are aged either four or five, depending on when their birthday falls.
Raising the starting age for school would involve three years of nursery education instead of two, and six years of primary education instead of seven.
Mr Russell told BBC Scotland's Morning Call: "What I have been suggesting to local authorities and others is that we need to find imaginative new ways of continuing to improve education and make sure that we can do so at a time of a squeeze on budgets."
The education secretary said he had ruled out cutting teacher numbers and was against closing schools in rural areas.
He said: "I don't think you get better education by having fewer teachers. I am quite blunt about that."
Mr Russell added: "In terms of starting school later, that does happen across Europe but education is very much rooted in how a society operates.
"Many people have work patterns which would make this very difficult and also we want to make sure that young people get the best out of their experience."
He said he would judge planned changes on how they allowed pupils to grow and develop.
"It's a challenge we are all going to have to rise to but I am pleased we are having this debate," he said.
Failing to understand
Larry Flanagan, general secretary of the EIS teaching union, told the same programme: "If you look at this simply as a cost-cutting measure then you are not looking at it in educational terms, you are simply looking at it in budget terms. That's where the difficulty lies."
He said countries that started formal education later usually had a very good kindergarten system for pre-school children.
Mr Flanagan said the Scottish government's new Curriculum for Excellence is for children aged three to 18, so they had already committed to the concept of providing educational fundamentals to all children from the age of three.
He said: "We would argue that pre-school education, however it is delivered, could not be done on the cheap.
"We are already arguing with Scottish councils who have been cutting nursery teachers in the pre-five education and replacing them with other pre-five workers. The idea that you do this simply because it is cheaper is failing to understand what the educational arguments are for the three to 18 experience."