SNP conference: Party eyes up the goal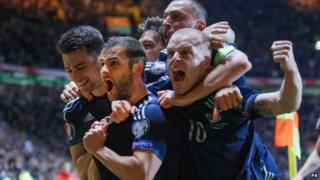 Apologies for the radio silence yesterday. (And TV, and Online). I was obliged to leave the Concert Hall in Perth, feeling decidedly unwell. Thanks for the solicitous inquiries.
Thanks too to Shaun Maloney for an excellent match-winning goal. Nothing lifts the spirits as much as a Scotland victory - apart, that is, from triumph by the mighty United.
Back in harness today - and back to the SNP conference. Where the atmosphere is truly remarkable. One might attribute the phenomenon to Maloney mania - except that they were upbeat and energised yesterday, before the game.
They cheered Nicola Sturgeon when she was installed as leader. They cheered Stewart Hosie, her elected deputy. Congratulations to both. They cheered any mention of Alex Salmond's name even before he arrived in the hall.
The talk was of a hugely enhanced party membership. The talk was filled with high-energy anecdotes from the referendum campaign. The talk was of one more heave. The talk was that Scotland's real verdict had been "not yet", as one speaker put it.
Also reflecting upon that increased membership was the party's Business Convener Derek Mackay who chairs the conference with a mix of laconic humour and gentle wit, constantly pleading for brevity. Chic Murray with a stopwatch.
He explained a few conference idiosyncrasies to the new membership. Motions, he said, were sometimes "carried by acclaim". No show of hands. No card vote. Just enthusiastic applause. Indeed, such verdicts are now commonplace at all conferences in these days when internal political dispute is shunned.
It would seem that SNP strategy has also been carried by acclaim. Here in Perth, there is little detailed reflection upon the minutiae of the referendum result. No post mortem upon defeat. No gloom whatsoever.
P.G. Wodehouse once noted that it was seldom difficult to tell the difference between a ray of sunshine and a Scotsman with a grievance. Plum, you should be in Perth today. They are bouncy, they are chipper - and, no, it is not a pretence.
This is to the exasperation of their political opponents who had thought that the referendum was a rare cup final whose result would be definitive. Instead, the SNP see it as a closely fought first leg - or a slight reversal in a longer league campaign.
I put this to Alex Salmond in a webcast interview. Had he not said during the referendum that such decisions were once in a generation - or even a lifetime?
He had - but that was his personal opinion, offered as such. There was now a new leader - and perhaps a new set of circumstances. Were not the people of Scotland, I pressed, entitled to view his comments as a pledge by his party that they would not seek an early rerun? He demurred: they were his personal view.
Picking up seats
So what might be those circumstances? Mr Salmond offered - as has Nicola Sturgeon - the prospect of a vote in a UK referendum to withdraw from the European Union, against the declared wishes of the people of Scotland. That might prompt a further independence plebiscite.
That is one factor driving the sunny side at the Perth conference. Another, of course, is the state of politics in Scotland and opinion polling in the run-up to May's UK general election.
Delegates survey the Scottish Labour Party - and those polls. They conclude that the SNP has a good chance of picking up seats in May - and possibly even holding sway in post election negotiations. Not a coalition, not in any circumstances a deal with the Tories. But just, perhaps, maybe a confidence and supply or issue by issue agreement, extracting concessions for Scotland.
Incidentally, Mr Salmond told me that is the one factor which might prompt him to seek to return to Westminster - against his personal disinclination.
A third factor is that the SNP remains a movement as well as a party. The remarkable discipline they have shown at Holyrood seldom needs to be imposed. It is innate. They know they have a broader objective, a longer term aim.
Fourthly, today's SNP is a different being from the organisation which entered a period of introspection and division after the referendum in 1979 which thwarted hopes of devolution at that time.
Today's SNP is a mature, substantial party of government - with a range of experienced senior figures and back-room cadres.