'Best advice is none' campaign on new drink-drive limit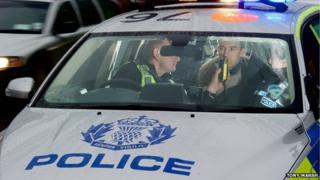 The Scottish government has warned drivers "the best advice is none" as it rolled out a campaign to highlight changes to the drink-drive limit.
The high-profile initiative aims to ensure drivers in Scotland are aware before the proposals come into effect on 5 December.
These would lower the alcohol limit from 80mg in every 100ml of blood to 50mg in every 100ml of blood.
MSPs in Holyrood will vote on the order on Tuesday.
Justice Secretary Kenny MacAskill said: "We are doing everything we can to make sure everyone is informed about the new lower level.
"A persistent minority of people are still getting behind the wheel after drinking - that is unacceptable.
"It is putting lives at risk and it must stop. Our advice is simple, the best approach is to have no alcohol at all. Alcohol at any level impairs driving."
Preventing fatalities
Chief Superintendent Iain Murray, head of roads policing for Police Scotland, said: "An average of 20 people die on Scotland's roads each year and last year a further 90 were seriously injured and 340 slightly injured as a result of drink-driving related collisions.
"The new lower limit will reduce those numbers and the evidence from across Europe where the lower limit applies suggests we will see reductions in drink-driving and blood alcohol counts.
"On the lead up to 5 December police patrols will positively engage with as many road users as possible to provide real-time education to those who may be putting themselves and others at risk, influence behaviour in the future and prevent collisions on Scotland's roads."
The campaign will target supermarkets and transport hubs and has partnered with key motoring organisations including the Institute of Advanced Motoring, AA, RoSPA and Brake.