Scotland vigilant after Yorkshire bird flu outbreak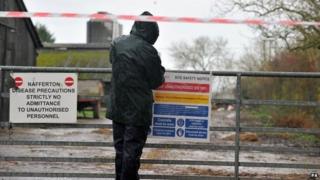 Scottish poultry farmers are being warned to be vigilant following an outbreak of bird flu in East Yorkshire.
Rural Affairs Secretary Richard Lochhead said the risk to the public was low but farmers should be on guard.
The outbreak at a duck breeding farm is the first serious case in the UK since 2008.
Government vets was investigating if the case of "highly pathogenic" H5 avian flu was linked to a similar case in the Netherlands.
It is not thought to be the H5N1 strain which has killed hundreds of people across the world.
Officials reassured the public that the strain found at the Yorkshire farm is not the H5N1 strain of the virus which has led to deaths in people.
Mr Lochhead said: "The Scottish government is closely monitoring the case of avian influenza on a duck breeding farm in East Yorkshire, and I note the immediate and robust response by the authorities in England to prevent any potential spread of infection.
"My officials have been liaising closely with the Department for Environment, Food and Rural Affairs (Defra) who have made it clear the public health risk is very low - and that they have ruled out the H5N1 strain that is infectious for humans."
A six-mile exclusion zone has been set up around the farm in Nafferton, near Driffield in East Yorkshire, and 6,000 ducks on the farm are being culled to prevent the disease spreading.
Scotland's chief veterinary officer Sheila Voas said: "As always, all poultry keepers should continue their efforts to maintain high levels of biosecurity and monitor their birds for any signs of disease.
"Avian influenza is a notifiable disease, and so any suspicion should be reported immediately to the nearest animal health office.
"Members of the public are asked to report any such incidents by calling the Defra national helpline on 08459 33 55 77. Scottish government advice is not to handle dead wild birds where possible."