Epileptic seizures 'not recognised by police and law officers'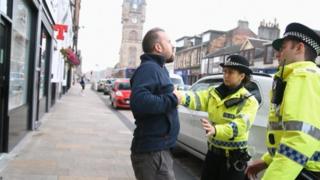 People with epilepsy could end up with criminal records because police and prosecutors do not always recognise their condition, a charity has warned.
Epilepsy Scotland said people could be arrested for shoplifting or getting into the wrong car when they were mid-seizure and unaware of their actions.
The charity is now running an awareness campaign for police and law officers.
Police Scotland said it welcomed advice that could help officers respond in a caring and appropriate manner.
Epilepsy Scotland said there were 42 different kinds of seizures. In some the person can appear to be in a trance-like state and be unable to speak or communicate for several minutes.
Lesslie Young, chief executive of Epilepsy Scotland, said everyday tasks could be problematic.
"They're in the shop, they're picking up the garment to have a look at, their seizure starts and they walk out the shop holding whatever piece of merchandise they may have,' she said.
"The other thing they might try to do is get into the wrong car or the wrong house. So they've been performing an activity, their seizure starts. They continuing to try and do that but inappropriately."
---
Case Study - Graeme Logan
Graeme Logan sometimes has only two or three seconds' warning that he is about to have a seizure. Four years ago he had one in a chemist. He went into the back of the shop and sat down at a computer.
He didn't respond to staff questioning him or telling him to leave the area. The police were called and he woke up in the back of a police van in handcuffs.
"As I'm coming round I'm starting to panic, why have I got handcuffs on me, and my instant reaction was get the handcuffs off me," he said.
The situation changed when the police phoned home and spoke to Graeme's wife. She explained his condition and he was treated very differently.
"They got in touch with my wife, who was able to explain a little more about having the epilepsy. At the end of the day I think they were a little embarrassed about what happened."
Graeme is angry but hopes his experience will help bring this problem to light.
"It is now going to be part of police training to actually give them an insight into all sorts of forms of epilepsy."
---
She said some people with epilepsy were inadvertently entering the criminal justice system as a result of behaviour they had no memory or control over.
The charity is launching an awareness DVD for police officers and prosecutors.
Deputy Chief Constable Iain Livingstone welcomed the initiative.
He said: "Our focus is on keeping people safe and ensuring that we respond in the best way possible to the individual needs of members of the public who come into contact with the police, whether they are victims of crime, witnesses or an accused.
"Officers and staff will come into contact with individuals in a number of different circumstances - in the community, responding to an emergency or a crime, or in custody.
"It's vital we get it right first time. This training DVD will be a significant tool to assist us in recognising the signs of epilepsy and managing those situations.
"Raising awareness of police officers and police staff about epilepsy assists Police Scotland in ensuring we respond in a caring and appropriate manner in all circumstances."