Ebola outbreak: Scottish NHS workers fly to Sierra Leone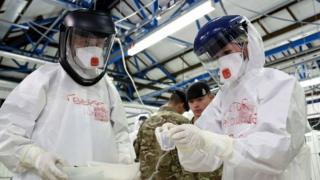 Five NHS workers from Scotland are part of a UK team of medical volunteers heading to Sierra Leone to help in the fight against Ebola.
The group of GPs, nurses, psychiatrists and emergency medicine consultants are being sent to the West African country's capital, Freetown.
They will complete a week's training before starting work in Ebola treatment centres across the country.
The virus has killed more than 5,000 people in the current outbreak.
This is the first wave of NHS volunteers to be deployed by the UK government.
'Selfless volunteers'
Dr Roger Alcock, a consultant in emergency and paediatric medicine at Forth Valley Royal Hospital in Falkirk, said: "I have respect for the situation in Sierra Leone but I think with the training we've had we will be able to make a difference.
"My colleagues have been incredibly supportive, both on an individual and an organisational level. I think I have the skills as an emergency physician to help."
Pauline Cafferkey, an associate public health nurse at Blantyre Health Centre, South Lanarkshire, is another of the Scottish volunteers.
More teams are set to leave in the coming weeks after hundreds came forward to offer their services.
They have been preparing for deployment with intensive training at a Ministry of Defence facility in York.
Prof Tony Redmond, head of the charity UK Med, said: "The actions of these selfless volunteers in going and the actions of their colleagues and managers to release them and cover for their duties is testimony if ever there was to the altruism that lies at the core of the NHS.
"I am very proud of them all."