Donaldson's school for deaf children: Improvement plan produced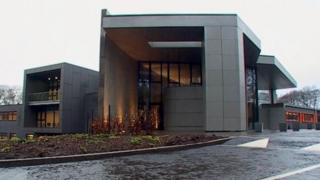 An improvement plan has been produced to deal with urgent concerns over how the national school for deaf children is being run.
Scottish government ministers gave Donaldson's School in Linlithgow seven days to respond to concerns
The government says school managers have submitted their response and it is now being "carefully considered".
A new principal was recently appointed and many of the school's governors have resigned.
Meanwhile, police have been looking into claims that sexual offences may have been carried out at the school.
Donaldson's is a grant-aided special school supported by the Scottish government.
Immediate steps
Local authorities from all over Scotland and the north of England refer pupils there and fund their placements.
The notice calling for an improvement plan within a week was the first of its kind to be issued for 15 years.
A Scottish government spokesman said: "Immediate steps have already been taken, and will continue to be taken, to ensure the safety and wellbeing of the children and young people at Donaldson's.
"The managers of the school have submitted a response within the seven-day deadline and that is currently being carefully considered. Education Scotland and the Care Inspectorate continue to provide support on site at the school."
A report by Education Scotland last year criticised the quality of leadership at the school and a follow-up report said not enough progress was being made putting things right.
Some parents at the school have been keen to praise the important work being done there to help children, some of whom have complex learning needs.