Peek's smartphone eye team in crowdfund appeal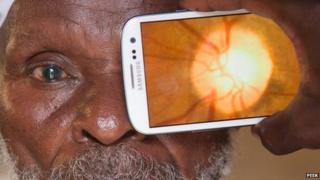 The team behind a portable eye examination kit that uses smartphones is crowdfunding to raise funds for its new innovation.
Peek Retina is a smartphone camera adapter engineered at the University of Strathclyde and NHS Greater Glasgow and Clyde.
Peek's apps and adapter tackle avoidable blindness by making eye care widely available.
The tools can be used to help those who cannot reach clinics or hospitals.
A total of 80% of blind people have lost their sight through preventable or treatable conditions - however, millions of people around the world are still not able to get treatment.
The project is a collaboration between the London School of Hygiene and Tropical Medicine, the University of Strathclyde and the NHS Glasgow Centre for Ophthalmic Research.
Unnecessary blindness
Peek Retina, the team's newest creation, is an adapter that can be clipped over the camera of a smartphone to allow health workers to see inside the eye, save the photos and send them to experts for diagnosis and treatment.
It will produce high-quality images which compare favourably with traditional ophthalmoscopes and more expensive, bulky retinal cameras.
Many eye diseases and other health problems, such as diabetes and high blood pressure, can be detected with a good view of the retina.
Peek aims to develop mobile-based versions of everything needed for a comprehensive eye exam, allowing health workers to find people with eye problems which could be cured or prevented with treatment.
Those who visit the crowdfunding page can buy Peek Retina for their own use, or contribute funds for the manufacture and distribution of the adapter to suitable low-income settings.
Dr Bastawrous, a clinical lecturer and ophthalmologist within the International Centre for Eye Health at the London School of Hygiene and Tropical Medicine, said: "With Peek we are hoping to increase the access to eye care to the millions of people who are blind and shouldn't be.
"For this to be a success we need to find a sustainable way of sharing the technology as far and wide as possible.
"There are so many hard-working and excellent eye care workers in hospitals and charities worldwide and one of the greatest challenges they face is getting expertise and diagnostic tools to remote locations - we hope Peek will support their efforts to alleviate unnecessary sight loss."
'Social impact'
Peek was formed after co-founder Dr Andrew Bastawrous had difficulty transporting bulky eye equipment to remote areas in Kenya during a community study as part of his PhD at the London School of Hygiene and Tropical Medicine.
He teamed up with Peek co-founders Stewart Jordan, Dr Mario Giardini and Dr Iain Livingstone to investigate the potential power of smartphones.
In 2013, Peek received funding from The Queen Elizabeth Diamond Jubilee Trust for research and development.
As a result of this support, the team is conducting trials over the next five years to test the technology in settings and communities including Kenya, Mali, Tanzania, Botswana, Malawi, India and the UK.
Dr Giardini, lecturer in the department of biomedical engineering at the University of Strathclyde, said: "The Peek Retina adapter is the most exciting thing my group has ever designed; it is incredibly simple and yet it will change the way we look at eyes."
Dr Iain Livingstone, an ophthalmologist and research fellow based at the NHS Glasgow Centre for Ophthalmic Research, said: "We hope that in the near future, integration of Peek Retina with computerised grading systems will bring high-quality screening to resource poor settings, detecting such blinding conditions as diabetic eye disease, helping connect patients with treatment."