Council warning over unlicensed window cleaners in Fife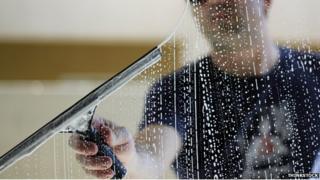 Fife council is warning residents not to employ window cleaners before checking that they hold valid licences.
The warning comes after four window cleaners in west Fife were charged by police for operating without licences.
The council said the purpose of the licences was to "protect householders" and "in case of accidents".
Councillor Bob Young said it was important for householders to know those working were "fully trustworthy".
---
Overview
Where an authority introduces the Window Cleaners Licence, all window cleaners (whether sole trader or employee) is required by law to hold a licence for each individual authority area in which they operate.
Most Scottish councils require window cleaners to have a licence and to ensure that they have both public and employers liability insurance before they can work as a window cleaner.
Source: Gov.co.uk
---
Window cleaners must have adequate public liability insurance to hold licences, which are issued by the council.
They must also have been subject to background checks by Police Scotland. Licensed window cleaners are also required to carry their licence ID at all times.
Fife Council is now encouraging householders and businesses to personally check that their window cleaners have licences.
Councillor Bob Young, chairman of the regulation and licensing committee, said: "We place a lot of trust in those we employ to carry out work at our homes.
"They are often working while we are away so it's very important that they are fully trustworthy.
"Our enforcement officer recently took action against four individuals in west Fife who were charged by police for operating as window cleaners without licences.
"We will continue to work closely with Police Scotland and other agencies in the coming months to ensure the public are protected from any unlicensed traders."
---
If you're a window cleaner: What you need to know
It is an offence to operate without a licence and those caught doing so can be reported to the procurator fiscal.
Your licence may come with conditions, such as making sure you follow health and safety rules.
Most councils will issue a licence that lasts for three years.
If you work without a licence you may be fined up to £2,500.