Scottish health survey reveals risk of childhood obesity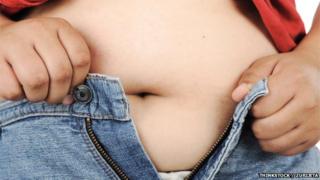 Almost a third of Scots children are at risk of being obese, according to the annual health survey.
Figures from the survey also suggested that more than half of women and a third of men had increased their waist size in the past year.
Despite this, the survey said that levels of obesity in Scotland may be stabilising with no increase in the past five years.
Levels of people drinking and smoking also appear to have decreased.
The Scottish Health Survey interviewed nearly 7,000 adults and children between January 2013 and January 2014.
The survey showed that 28.8% of children were at risk of being overweight or becoming obese. It also said that children were still not eating enough fruit and vegetables with just 13% getting their five a day.
However, figures also suggested there was an increase in the number of children eating oily fish regularly, and a drop in the number of children eating chips more than twice a week.
'Encouraging news'
While obesity levels in adults have stabilised, increased waist sizes mean that people are more at risk of developing obesity-related diseases such as heart disease and type two diabetes.
The number of adults smoking dropped from 25% in 2012 to 21%, and the levels of people giving up drinking alcohol also increased.
One in five women said they had not drunk at all in the past year as did 12% of men. Over the past decade, weekly consumption of alcohol has declined steadily.
However, the figures also showed that 9% of adults had reported signs of depression with a significant increase in the percentage of adults displaying one symptom of depression, from 5% in 2010/2011 to 8%.
Lisa Rutherford, research director at ScotCen Social Research which carried out the survey said: "There is some encouraging news here, the gradual decline in drinking has been maintained, smoking continues to decline and adult obesity appears to be flatlining.
"However, the fact remains that two in three adults in Scotland are overweight or obese, just over a third of us are falling short of the physical activity guidelines and fruit and vegetable consumption hasn't improved in the last decade.
"So there is still plenty of room for improvement, particularly when it comes to protecting ourselves against obesity-related illnesses."