Primary 1-3 class sizes in Scotland rise for fourth year in a row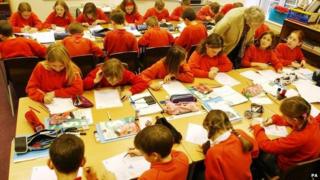 The number of Scottish pupils in the early years of primary school have increased for the fourth year in a row, new statistics show.
The average class in Primary 1, 2 and 3 has 23.3 pupils - a rise from 23.2 pupils last year.
Scotland's new Education Secretary Angela Constance said the news was "disappointing".
The Scottish Conservative party accused the SNP administration of taking its "eye off the ball".
In 2007 the SNP made a manifesto commitment to cut class sizes between Primary 1 and 3 to 18 or less.
However, only around one in eight pupils in these years are being taught in a class that small.
This year 22,137 primary 1, 2 and 3 pupils are in a class with 18 or fewer children in it compared with 22,992 last year.
Class size legislation
There has been a substantial rise in the number of early primary pupils in a class with more than 26 pupils.
Over the three primary years, numbers went from 42,908 last year to 45,539 this year.
Legislation was introduced in November 2010 to limit class sizes for Primary 1 pupils to a maximum of 25 unless there were exceptional circumstances.
Across Scotland, 451 P1 children are in a class with 26 pupils or more, which is a new low.
Scottish classroom sizes
Primary 1, 2 and 3
23.3
Average class number 2014
23.2
Average class number 2013
22,137 Pupils in classes with fewer than 18 pupils (2014)

22,992 Pupils in classes with fewer than 18 pupils (2013)

46,009 Pupils in classes with more than than 26 pupils (2014)

43,644 Pupils in classes with more than than 26 pupils (2013)
The latest government statistics also showed that the number of teachers in Scotland's schools fell in 2014 while the number of pupils increased.
Full-time equivalent teacher (FTE) numbers stand at 50,824 which is 254 fewer than 2013.
The number of pupils in Scotland's schools is up 3,425 on the previous year to 676,955.
The education secretary said: "It is only a few years since more than 16,000 P1s were taught in unacceptably large classes of more than 25.
"These figures show we have virtually eliminated such classes.
"And, in the early years, we can see more three and four year olds in nursery have access to a registered teacher - giving them a better start to their education journey."
'Failed miserably'
Ms Constance added: "We welcome the rise in the number of primary teachers but it is clear that this rise has been outstripped by the increase in primary pupils. That has led to a small but disappointing overall increase in the pupil-teacher ratio.
"We are already in discussions with councils, through Cosla, on the way ahead and these figures will now form part of those talks."
The Conservative Party's education spokeswoman, Mary Scanlon, said the Scottish government was failing on a number of target areas such as class-sizes and pupil-to-teacher ratio.
She added: "The SNP made clear in its 2007 manifesto that it would address this issue - and inevitably it has failed miserably.
"This is a huge concern, and one that has to be treated as an absolute priority."
---
ANALYSIS
By Jamie McIvor, BBC Scotland education correspondent
Although the average figure for early years education has only crept up slightly, the latest statistics show a significant drop in the number of children in very small classes and a rise in the number in large classes.
This year 22,100 P1, 2 and 3 pupils are in a class with 18 or fewer children in it compared to 23,000 last year.
The total number of teachers - in both primary and secondary schools - fell from 51,070 to 50,820 while the total number of students rose from 673,500 to almost 677,000. The ratio of pupils to teachers rose 13.5 to 13.6. In 2008, the ratio was 12.9.
These figures are likely to be scrutinised closely by the teaching unions which want to see ratios maintained.
However, there was better news on the condition of school buildings.
The proportion of pupils educated in schools deemed to be in a poor or bad condition fell from 37% in 2007 to 16% this year.
Education is, in effect, a national service which councils are entrusted to provide.
While there are national agreements in place, it is up to each of Scotland's 32 councils to decide just how much to spend.
With council budgets under increasing pressure, local authorities are examining their education budgets closely.
At least one council - South Lanarkshire - is examining the possibility of actively increasing class sizes in the early years of primary although classes would still comply with statutory limits.
---
Local government body Cosla said the statistics were positive.
However, spokesman Councillor Douglas Chapman added that there was more to delivering a high quality education system "than simply the numbers of teachers that are employed".
He said: "Over the next four months, we have embarked on a process with Scottish government, trade unions, parent bodies and other interested parties to consider a broader range of indicators for educational improvement."
Scotland's largest teaching union, the Educational Institute of Scotland (EIS), said Cosla had failed to meet a binding agreement on maintaining teacher numbers.
EIS general secretary, Larry Flanagan, said: "The agreement to maintain teacher numbers across Scotland was hard won, at significant cost to teachers' pay and conditions, and was designed to keep class sizes at an acceptable level, facilitate a quality learning environment for pupils, and provide job opportunities for graduate teachers entering the profession.
"The fact that Scotland's local authorities and Cosla have failed to deliver their part of the agreement is a clear betrayal of teachers, pupils and parents across Scotland."
'Pay the price'
Criticism also came from Scottish Labour's education spokeswoman, Kezia Dugdale, who said the SNP's broken promises had left Scottish parents abandoned.
She added: "Our schools are creaking, our teachers are stressed, parents are anxious and pupils are suffering. Yet year after year the SNP sweep these issues under the carpet and pretend everything's on the up."
Scottish Liberal Democrat education spokesman, Liam McArthur, believed SNP ministers had spent "so long" campaigning for independence that they had taken their "eye off the ball" in relation to supporting key services like education.
He added: "We now know that teacher numbers are at their lowest since the SNP came into power, the pupil-teacher ratio continues to increase and more primary school pupils are being taught in bigger classes.
"All a far cry from SNP promises to deliver lower class sizes and a betrayal for which school children in Scotland will be left to pay the price."