Victims and witnesses 'to pre-record video statements for court'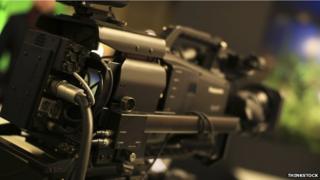 Victims and witnesses could pre-record video statements rather than giving evidence in court under radical new proposals being considered by the Scottish Court Service (SCS).
The BBC understands the concept is being actively explored by the judiciary and the SCS.
The aim is to avoid wasting witnesses' time and speed up trials.
Legal experts have raised concerns and warned it should not be a substitute for cross-examining witnesses in court.
Traditionally, witnesses make an initial police statement and then may give more statements before giving evidence in person in court.
But the court service hopes that if witnesses could record their statement immediately after an incident, it would be fresher in their memories and avoid them having to turn up at court on numerous occasions while waiting for a trial to progress.
Eric McQueen, chief executive of the Scottish Court Service, said they believe there is real merit in the idea.
'Change of culture'
"At the moment, we largely rely on witnesses coming to court," he said. "One of the areas we are looking at is to have more pre-recorded evidence and for that evidence to be in a video format.
"Quite clearly this would be a big change and we are still at the early stage of discussions. It would require a change of culture and legislation but it is one of the ways we are looking to reduce trial times and the impact on victims and witnesses.
"There are a whole range of trials it could be applied to and that is what we are looking at with this feasibility study. Even if we come to a stage where a high propensity of witnesses are doing this - that would be a step in the right direction."
Under recent legislation, some vulnerable witnesses and victims in Scotland are being given the option of giving evidence to court via video link.
And some prisoners have been allowed to appear before the court via video link for pre-trial hearings.
But this new proposal could lead to all witnesses filming evidence in advance for the actual trial.
Heather Dickson, operations manager at Victim Support Scotland in Glasgow, said they would welcome the move as long as victims get to choose whether they can attend court to give evidence if they want to. She said the current system can cause victims problems.
She said: "There is the inconvenience of having to go to court - time off work, cancelling previous commitments. And that can be repeated on a range of occasions because of witnesses not turning up, so the court case can't go ahead that day.
"There can be multiple repeat visits before the case is even heard and, in some cases, they don't get heard at all."
Some legal experts have raised concerns about the proposal. QC Brian McConnachie, chairman of the Criminal Bar Association, said he is not convinced it would save time because witnesses would still need to be cross-examined.
Increasing pressure
He said: "This cannot be a substitute for cross-examining people in court and allowing juries to see their reaction.
"I agree that court time needs to be saved because the system is under increasing pressure. I have some difficulty understanding how this would save court time.
"There is an obsession about saving money in the justice system. But justice is an area where it is very difficult to cut spending. Cutting spending means an inferior justice system.
"There is no doubt in my mind that the system, in particular at the sheriff court, is creaking to the point where it is about to break."
A Scottish government spokeswoman said: "We are currently working with Justice organisations to identify where the law needs to be amended so we can make best use of digital technology."
The move follows concerns about the time taken for trials to progress and overall delays in the court system.
The SCS says the increasing complexity of cases and a surge in demand as a result of more proactive policing last year led to some delays.
In March 2014, just 50% of trials in sheriff courts were being set within the recommended time of 16 weeks.
The situation has since improved slightly with 60% of trials now being set within 16 weeks.