Catching a wave of failures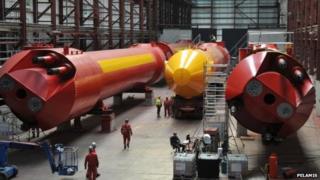 The Scottish government is not a newcomer to investing in risky businesses.
Through Scottish Enterprise, it has a fund for taking stakes in fledgling companies with high-growth potential, and particularly those at a stage where it's hard to get the funding necessary for development.
Now, through Highlands and Islands Enterprise, it is not the owner of a wave power business, but of its assets, including cutting edge technology and some steel fashioned into a very large sea-snake.
As a business, Pelamis Wave Power has collapsed, its staff gone, the expertise dispersed, having recently been the symbol of Scottish engineering and energy technology. Ministers showed it off to visiting foreign dignitaries, including the Chinese deputy premier.
Administrators found the best option was to sell the assets to the government. That suggests a lack of other options.
Now, the challenge taken on by the Scottish government, its agencies, and the Wave Power Forum it set up when Pelamis went into administration, is to find a way to make use of the invention. The aim is to stop it becoming another technology lost to foreign competitors.
Huge potential
There are big problems, however. It will take many millions of pounds if this is to become commercially viable, and commercial funding has not been there to back wave power sufficiently. Plugging that gap with public funding would be very risky, not least when the team behind Pelamis is dispersed.
Although wind power has huge potential, no-one yet knows which technology is going to work commercially and to win the race to deployment over rival ideas.
Also based in Edinburgh and also testing off Orkney, Aquamarine's Oyster device takes a different approach to riding and harnessing the waves. Unable to attract funding, it is also slashing its staff numbers and looking for a buyer.
So the Scottish government, its agencies and its new forum have the tricky problem of trying to salvage two pioneering technologies which are in competition with each other, when it may be that neither has what it takes.
Taxpayer lifeline
They are also getting into an emerging industrial strategy, in which failing Scottish businesses, which are seen as having strategic significance, can be expected to get a lifeline from the taxpayer.
The first part of the strategy was the attempt to bully Diageo into reversing its decision to close the Johnnie Walker bottling plant in Kilmarnock. The Scottish government was politely ignored, looked inept, and soured relations with the distilling giant.
Now, the Pelamis assets join the queue for public funds behind Prestwick Airport, for which a turnaround plan remains vague. The question of what to do with broken pledges from opencast coalmining companies remains open, as the remainder of the industry faces new challenges.
We have yet to see what incentives were promised in August for Jim McColl and Clyde Blower Capital to buy Ferguson Shipbuilders of Port Glasgow out of administration. An order for a new ferry was one, with work on it duly started by Nicola Sturgeon this week.
It will be interesting to see how far this approach extends as the oil price crash hits home in Aberdeen and the north-east.