Forecasters predict icy Christmas and snowy Boxing Day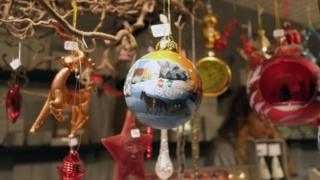 Christmas travellers have been warned to be prepared for ice and snow across large areas of Scotland.
The Met Office issued a yellow "be aware" warning of ice developing on Christmas morning after showers, and one for snow and sleet on Boxing Day.
The cold snap is expected to affect the north east initially before spreading south to cover most of the country.
Forecasters said the freezing conditions would be slow to thaw on Christmas Day.
They said people should take particular care on side roads and pavements.
Transport Scotland is monitoring the situation closely, and a spokesman said extra resources were in place over the festive break.
Aberdeenshire Council said about 50 staff and 32 gritters began treating roads at 05:30 on Christmas morning.
'Extra time'
Philip McKay, head of roads and landscape services, said: "While Christmas Day is not a normal commuting day, we are mindful many people still have to travel to be with family and friends later in the day.
"Conditions may well be changeable across the network and I would ask road users and pedestrians to take extra care and leave a bit of extra time for their journeys."
A further yellow weather warning of wind and snow has been issued for Boxing Day afternoon into Saturday.
The Met Office said more than 10cm of snow could fall on ground above 200m, as wet weather spreads across most of Scotland.
There is also a risk that snow could affect lower lying areas in the central belt.
Winds are expected to increase through Friday evening and night, with eastern Scotland likely to be the most affected area.
---
Check out the latest travel news for Scotland
Around the country
For the latest on the roads visit the BBC's travel news page and keep up to date with incidents and roadworks on the motorways here.
Around the country you can check for updates from:
Alternatively, for regular travel bulletins listen live to BBC Radio Scotland and follow @BBCTravelScot.
In times of severe disruption you can also follow the BBC Scotland severe weather Twitter list of key sources.
Below are a number of other traffic information sources.
Other links
---