Deep-sea sponge reef found at site of extinct volcano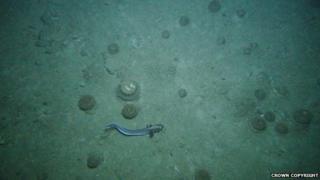 The UK's most extensive deep-sea sponge ecosystem has been revealed at the site of an extinct volcano.
Scientists from Marine Scotland found the reef while studying Rosemary Bank, about 100 miles (160km) north west from the Outer Hebrides, in September.
The sponges have a skeletal structure and resemble birds' nests, mushrooms or cheese.
They filter water, a key process for the preservation of oceans, and provide refuge for a variety of species.
The Scottish government designated Rosemary Bank as a marine protected area earlier this year, meaning human activity is restricted there.
Environment Secretary Richard Lochhead said: "Scottish waters cover an area around five-times bigger than our land mass and are miles deep in places.
"These hidden gems offer a fascinating glimpse of the treasures that still await discovery under the waves.
"This important discovery is the largest grouping of sponge in the whole of the UK.
"Scotland's seas are home to a diverse range of precious sea life and it is our responsibility to protect this fragile environment."
Scientists from Marine Scotland said Rosemary Bank - an underwater extinct volcano in the Atlantic Ocean - measures about 1,900m from the sea bed, making it over 500m taller than Ben Nevis.
'Critical role'
A camera deployed from the study vessel Scotia took an hour to reach the ocean floor, where the sponges were discovered.
Some of the animals found in the sponges included deep sea sharks, Grenadier fish, eels, lobsters and octopuses.
Francis Neat, chief scientist on the study, said: "Deep-sea sponge reefs such as those on the Rosemary Bank seamount may take hundreds of years to form.
"They provide refuge for a great diversity of marine life."
The scientists estimate millions of sponges are in an area of 46-155 sq miles (75-250 sq km), and believe the field could be larger as only a small section of the Bank was explored.
The discovery has been welcomed by WWF Scotland director Lang Banks.
He added: "Scotland's seas have once again thrown up some truly amazing finds, and show that we've still much to learn when it comes to life beneath the waves.
"Sponges play a critical role in our marine environment, helping to filter huge amounts of water and acting as hiding places for fish and other creatures.
"This latest discovery should now help this particular area to be better managed, and underlines exactly why Marine Protected Areas are so important."