Scots awarded titles in New Year Honours list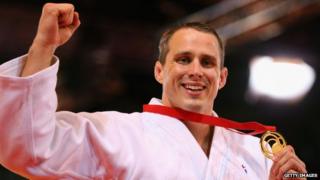 The achievements of Scots from the worlds of sport, entertainment and politics have been recognised in the New Year Honours list.
Commonwealth Games gold medal winner Euan Burton, MP Anne McGuire and entertainer Andy Cameron are among those picking up awards.
Several figures were honoured for their contribution to the Glasgow games.
About 120 Scots, from charity workers and healthcare staff to community volunteers, have all been recognised.
Former radio and television host Mr Cameron, of Auchterarder, was appointed an MBE for his services to entertainment and charity.
The 74-year-old most recently campaigned alongside MP Jim Murphy, now the Scottish Labour leader, for a "No" vote in the independence referendum.
Commonwealth success
The successful staging of the 2014 Commonwealth Games in Glasgow was behind a number of the awards.
Judo star Mr Burton, of Edinburgh, was Scotland's flag-bearer at the Glasgow games, and received an MBE for services to sport.
He retired from competition in August, and said the MBE was "a brilliant way to end a good career", adding that he had kept news of the award a secret from his wife and mother.
Glasgow 2014 board member Bridget McConnell received a CBE for services to culture, while Jon Doig, chief executive of Commonwealth Games Scotland and Francesca Osowska, director of Commonwealth Games and sport at the Scottish government, both became an OBE.
Glasgow City Council leader Gordon Matheson picked up a CBE, while his deputy Archie Graham was appointed an OBE, both for services to local government.
Following a year where Scotland also hosted the Ryder Cup at Gleneagles and the MTV Music Awards, VisitScotland chairman Mike Cantlay was singled out for an OBE for services to the tourism industry.
In politics, Stirling's veteran Labour MP Anne McGuire, who is to step down in May, and Edinburgh City Council chief executive Sue Bruce both received damehoods.
Mrs McGuire said the honour was "a bit of a surprise", adding: "Frankly, I never expected to receive any honour for work that I've enjoyed doing."
Mrs Bruce said she had been "hugely proud" to dedicate herself to local government, having spent 39 years in public service.
She said: "Serving as chief executive of the City of Edinburgh Council, particularly during such a challenging and exciting time for the capital, has undoubtedly been the pinnacle of my career.
"Of course, I couldn't have got as far as I have without the support of the people around me and this honour is as much for them as it is for me."
One citizen honoured in the list was David Martin, of Monifieth, who was appointed MBE for his 26 years of volunteering with the Royal National Lifeboat Institution, where he has managed two stations.
Mr Martin said he was "very honoured" to receive the award, which he dedicated to fellow volunteers who crew boats and assist on shore.
Meanwhile, Peter McQuade, who has spent more than 40 years playing the accordion at nursing homes and community events in Falkirk, received a British Empire Medal for services to the community.
Local champions
A mother and daughter pairing also received awards, with 93-year-old Catriona MacKinnon's British Empire Medal coming at the same time as her daughter Mairi O'Keefe's MBE.
Gaelic teacher Mrs MacKinnon is the oldest employee of Edinburgh City Council, and was honoured for services to the Gaelic language and culture, while her daughter Mairi is credited with saving the Leuchie House respite centre after its funding was withdrawn.
Stewart Spence, the owner of the Marcliffe Hotel in Aberdeen also got an MBE, as did historian Bryce Wilson - for services to culture in Orkney.
Mark Wylie's work in helping young athletes in Shetland was rewarded with a British Empire Medal.
Mr Wylie used the majority of his annual leave to take the stars of the future, including trampolinists and gymnasts, to the UK mainland for national competitions or national training squads.
Chief Superintendent Mark McLaren - who has served north-east communities for 30 years - was one of only three Police Scotland recipients of the Queen's Police Medal.
In the Highlands and islands, well known Gaelic singer and campaigner Arthur Cormack was awarded an OBE for services to Gaelic education.
Also getting OBEs were the former director of social work at Highland Council Harriet Dempster, for services to child welfare, and the man behind the Scottish Beaver Trial, former Scottish Wildlife Trust chairman Allan Bantick, for services to conservation.
Cleaning up
In the south of Scotland, well-known Borderer Henry Douglas received a British Empire Medal for his services to the community in the Borders.
A farmer all his life, Mr Douglas has been closely associated with the annual Common Riding festivities in Hawick, where this year, celebrating the 500th Anniversary of the historic Battle at Hornshole, he was the Chief Guest.
Four Dumfries locals were recognised, with nurse Alison Hall, chairwoman of the local branch of the stillbirth and neonatal death charity Sands receiving a British Empire Medal.
David Smith received the same award for services to the heritage of Robert Burns, while Catherine Mitchell was similarly honoured for providing more than 30 years of service as a cleaner at Annan police station.
Mrs Mitchell, 67, said she was "astounded" to win the prize. She said: "I didn't know people like me were given these type of awards. It's been a pleasure to be part of Annan Police Office for so many years.
"I've really enjoyed my time here and hope to be here for a while longer."
Kenny McFadzean, head of the ambulance service in Dumfries and Galloway, was awarded the Queen's Ambulance Medal after leading a number of national improvement programmes during 27 years of service.