New Year's Day welcome for Scotland's newest babies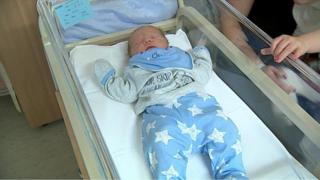 Parents at hospitals around Scotland have been welcoming the first new babies of 2015.
The first baby to arrive in Glasgow was born just after the bells at 00:02. Lucas King made his arrival at the Princess Royal Maternity Hospital.
In the Highlands, Lucas Brown was born shortly after at 00:20.
Reagan Brown arrived at 02:00 at St John's in Livingston and at 02:22 Nicole Gemmell gave birth to Kasie-Leigh at Forth Valley Royal in Larbert.
Dylan Gault from Aberdeen made his first appearance at 04:55 and Mason Marshall was delivered at Edinburgh Royal Infirmary two hours later.
Lucas King's mother Ashley said: "It's really nice to have had him at this time, especially as he was due on the 27th, so we didn't expect it."
Father Mark called his new 7lb 3oz boy "a wee cracker" and said they were looking forward to getting Lucas home with big Gracie sister and getting into a routine.