Details of Church of Scotland vote for gay ministers revealed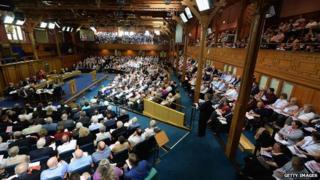 Details of the vote in favour of the ordination of gay ministers by Church of Scotland presbyteries have been revealed by the Kirk.
It announced last month that a majority had now voted in favour of change.
The Kirk has now said 32 of the 45 presbyteries backed proposals to allow them to appoint a minister who is in a civil partnership.
A final decision on the issue will be taken at General Assembly of the Church of Scotland in Edinburgh in May.
A total of 1,391 presbytery members voted in favour and 1,153 against, resulting in a 54.6% to 45.4% split.
Edinburgh, Glasgow, Aberdeen and Stirling presbyteries all backed the proposals, while Falkirk, Kirkcaldy and Inverness were among those that voted against.
In West Lothian, 28 voted in favour of gay ministers and 29 against, while all 19 individual members of the Lewis Presbytery voted against the proposal.
The ordaining of ministers in same-sex relationships has divided the Church since traditionalist members attempted to block the appointment of Rev Scott Rennie, who is gay, in Aberdeen in 2009.
The General Assembly voted in support of Mr Rennie but introduced an interim ban on ordaining other gay ministers until a special commission had studied the matter.
The ban was lifted in 2011 when commissioners agreed to consider the subject again.
A number of church members have left over the issue.
Presbyteries that supported gay ordination For/against
Edinburgh 115/59
Lothian 52/26
Melrose & Peebles 39/16
Duns 24/11
Annandale & Eskdale 23/7
Dumfries & Kirkcudbright 28/23
Ayr 51/37
Ardrossan 33/19
Lanark 22/11
Greenock/Paisley 52/28
Glasgow 127/93
Dumbarton 34/30
Argyll 43/20
Falkirk 36/52
Stirling 50/38
Dunfermline 26/24
St Andrews 35/20
Dunkeld & Meigle 24/10
Perth 51/38
Dundee 45/16
Angus 40/29
Aberdeen 45/29
Kincardine & Deeside 28/13
Gordon 24/21
Moray 29/26
Abernethy 13/8
Sutherland 15/11
Caithness 13/12
Orkney 15/11
Shetland 10/9
England 23/6
Europe 28/10
Presbyteries that opposed gay ordination For/against
West Lothian 28/29
Wigtown & Stranraer 10/19
Jedburgh 10/22
Irvine & Kilmarnock 17/40
Hamilton 53/73
Kirkcaldy 24/32
Buchan 19/40
Inverness 13/49
Lochaber 6/18
Locharron-Skye 2/12
Ross 5/38
Uist 1/9
Lewis 0/19
*Jerusalem no vote