Edinburgh Filmhouse cinema to show Interstellar in 70mm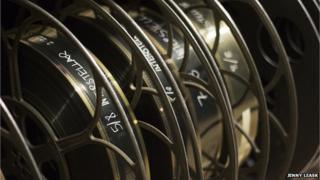 Edinburgh Filmhouse is the first UK cinema outside London to show traditional 70mm film projection of blockbuster science fiction movie Interstellar.
In the age of the IMAX, some film fans may argue everything else is second best.
But for David Boyd, the head of technical at the Edinburgh Filmhouse and the Edinburgh Film Festival, it is the traditional celluloid reels that give him goosebumps, especially when the 70mm high-resolution film gauge is projected.
Digital projection may rule the day at the multiplex but Mr Boyd believes that big movies look best when shown from big film.
So, the Filmhouse is to show director Christopher Nolan's film Interstellar in 70mm for one week only, beginning on Friday.
Mr Boyd believes this will be the first time a UK cinema has shown the film in the 70mm vertical format outside of the landmark Leicester Square cinema in London and the nearby Odeon West End.
"I just like the look of 70mm," says 47-year-old David.
"I don't know whether you would regard it as a flaw, but a film has a flicker in it that digital tends not to have. I think digital is too perfect in some ways."
Celluloid reels of 35mm and 70mm were the way we watched films in the cinema before digital took over a few years ago.
According to Mr Boyd, the 70mm screenings were used only for the big film releases of the past - the IMAX of its day you could say - as filmmakers and exhibitors tried to compensate for the growing sizes of cinema screens.
And he is not the only one who celebrates the old style.
In a blog last October from Mark Kermode, the film critic outlines his love for celluloid prints and their use for the release of Interstellar, the Nolan epic starring Matthew McConaughey as an astronaut out to save the human race.
Kermode highlights how directors like Nolan, Quentin Tarantino and Martin Scorsese are championing celluloid.
"One of the best things about what Nolan is doing is keeping up the stocks of 35mm prints - not for shooting but for exhibition," he argued.
"As far as flying the flag for celluloid is concerned, he definitely gets my vote."
Mr Boyd says the 70mm version of the film will offer viewers more resolution, greater depth, more contrast ratio - with "the blacks blacker "- and better colour representation.
With Interstellar largely set in the vast expanses of space, David himself believes the film is best seen in the immersive experience of an IMAX.
But for traditionalists like him, the 70mm will offer a different way to see the show.
He adds: "It is the best picture you will be able to see, even with current technology.
"As far as conventional cinema goes, instead of watching cinema on a 10-storey screen, I think this is as good as it's going to get."