Crowdfunding boosts research into Parkinson's drugs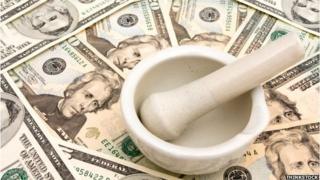 Scientists in Edinburgh have turned to crowdfunding to finance research into Parkinson's Disease.
A minimum contribution of £500 will provide would-be investors with a slice of any profits generated from a successful drug.
The researchers, academics and biotechnologists have already raised more than half the target of £100,000.
This would pay to test whether drugs, currently being used to treat other conditions, could benefit Parkinson's.
Dr Lysimachos Zografos, CEO of Parkure, which was formed by a group of scientists to fast-track research conducted at the University of Edinburgh, said it was a pioneering approach to funding.
"If successful, this will be the first time this model of equity crowdfunding has been used to fund drug discovery for a disease as big as Parkinson's," he said
While crowdfunding is emerging as a new way of financing medical research, concerns have been raised that it allows scientists to by-pass the usual safety checks and data controls which are attached to grants from major organisations.
Dr Zografos said his research would not get funding any other way.
"The drugs we are testing are already known and used in the market to treat other conditions," he said.
"Big investors prefer to invest in something with a higher return, but we've done our best to show that this is not a completely left-field, crazy idea.
"We have three non-executive CEOs, one who was involved in the company which cloned Dolly the Sheep.
"The others are well known professors in Edinburgh with excellent academic track records."
Drug 'repurposing'
Dr Zografos and his team will test the drugs on fruit flies which have been genetically engineered to develop Parkinson's. They will conduct detailed studies on the ones which look promising.
"This 'repurposing' approach can shorten the time it takes for the drugs to reach patients," he said.
Investors so far include charitable trusts as well as private individuals.
Parkure is using the crowdfunding site ShareIn which, along with platforms such as Microryza, RocketHub and GeekFunder allows scientists to seek funding from the public.
There is no cure for Parkinson's disease which affects one in every 500 people in the UK.
Symptoms include involuntary shaking, slow movement and stiff, inflexible muscles.
Most experts think that a combination of genetic and environmental factors is responsible.