Martyn Bennett: 'Fearless' music legacy lives on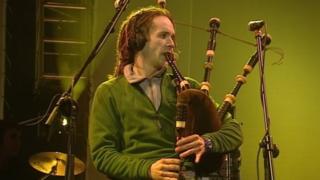 The opening concert of the 2015 Celtic Connections music festival is a tribute to iconoclastic Scottish musician Martyn Bennett, who died from Hodgkin's lymphoma 10 years ago, at the age of 33.
Martyn Bennett's last album, Grit, was recorded during his struggle with cancer but it remains a landmark record which provided a radical fresh interpretation of Scottish traditional music.
The album spliced unaccompanied singing by traditional singers such as Calum Ruadh and Sheila Stewart with electronic beats and grooves more familiar to a hardcore dance music audience.
The aim was to put his tradition on a global stage, revealing old songs in a new light.
For the Celtic Connections opening concert violinist and composer Greg Lawson has reconstructed the studio-created album for a custom-designed orchestra of folk, jazz and classical players.
He says: "It's amazing how many people you need to accomplish what he did by himself."
Lawson has assembled a cast of about 80 musicians and singers to perform the album live on the stage of the Glasgow Royal Concert Hall.
And Lawson says that while Grit is now widely acclaimed it was quite shocking at the time to set revered folk music to dance rhythms.
Martyn's mother, the renowned Scottish folklorist Margaret Bennett, says she thinks she underestimated his gifts, not wanting to appear boastful.
However, a decade on from his death, she has had time to reflect on his talent and influence.
She told BBC Scotland: "He was undoubtedly ground-breaking in what he did. He was fearless but he was also a very highly-competent musician.
"His whole life, from the earliest age, he had an astonishingly advanced appreciation and ability."
"Not just the music but the culture in which the music was set was important for him."
Martyn was born into a Scots Gaelic-speaking family in Newfoundland.
His mother, who had grown up on Skye, studied and taught folklore in Canada.
She says Martyn's early cultural experiences, immersed in folk tales and sounds from around the world, may help explain his "profound understanding of all the music he worked with".
The family returned to Scotland when Martyn was about six and he grew up in Edinburgh, where he played the bagpipes, the violin and the piano at an early age.
Donald Shaw, musical director of Celtic Connections, told BBC Scotland: "I worked with Martyn myself two or three times and the thing that struck me about him was that he was almost trying to unlearn how you would approach a song.
"When a song was crying out for a simple guitar or piano part he would say 'I am going to get a marimba to do this'. He was always looking for a way to take it left-field."
Shaw added: "I think he was constantly trying to find a way to present Scottish music in a different light as if it was some kind of international exotic music that he had stumbled upon rather than something that was his natural genealogy.
"Like all great innovators he was not copying, he was not trying to recreate what had gone before."
Margaret Bennett recalls that her son had a "great sense of humour" but when it came to his work he could be very demanding.
"But if you demand, you get," she says.
"He would not settle for anything less. He was meticulous about everything he did."
Bennett's reputation has continued to grow over the decade since his death, with many new artists citing him as an influence.
Earlier this year theatre director Cora Bissett dedicated to a stage show to his work and stunt cyclist Danny MacAskill used the track Blackbird in his recent The Ridge video, which has had more than 27 million hits on Youtube.
His mother says Martyn's music has endured because it is true to its roots.
She says: "To bring old music forward with integrity, that's the important thing.
"To emerge with something fresh and new and vibrant which interests people all over the world."