Heavy snowfall causes transport woes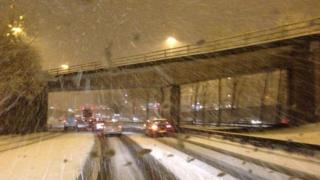 Heavy snowfall across parts of Scotland on Friday evening has caused travel disruption on many routes.
Central and south western areas were badly affected with numerous breakdowns leading to long queues.
Glasgow Airport warned of delays and the Rangers v Hearts match at Ibrox was abandoned..
Transerv Scotland, which deals with highways in south west Scotland, said it had 26 gritters working around the clock to keep 22 major routes open.
The A76 near Cumnock and New Cumnock was closed for a time because of snowy conditions as was the A751 at Stranraer.
Long queues developed on the M80 after three buses became stuck on the A806 towards Kirkintilloch.
The Erskine Bridge was closed southbound because of the conditions but traffic was later allowed to cross.
Police Scotland warned motorists they faced a high risk of disruption if attempting to travel in the Strathclyde or Dumfries and Galloway areas.
A police statement said: "If you do travel, you are likely to experience significant delays.
"Congestion caused by vehicles may restrict emergency, recovery or winter maintenance vehicles from providing essential assistance or from clearing roads."
A travel bulletin issued by Glasgow City Council said: "Roads users should be aware that heavy snow is affecting most routes throughout Glasgow City. Breakdowns and stranded vehicles are blocking numerous routes. Only travel if necessary."
Bear Scotland, which deals with routes in the north of the country, said the north east was largely unaffected.
The north west was facing sporadic snow showers, especially around Glencoe, but there were no significant issues with the main trunk routes.
Winter patrols were out monitoring the situation, a spokeswoman said.
Check out the latest travel news for Scotland
Around the country
For the latest on the roads visit the BBC's travel news page and keep up to date with incidents and roadworks on the motorways here.
Around the country you can check for updates from:
Alternatively, for regular travel bulletins listen live to BBC Radio Scotland and follow @BBCTravelScot.
In times of severe disruption you can also follow the BBC Scotland severe weather Twitter list of key sources.
Below are a number of other traffic information sources.
Other links