Warning of 'hazardous' conditions due to snow and ice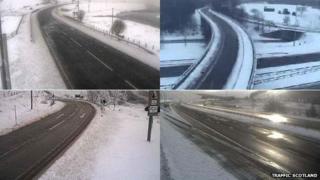 Drivers have been urged to be extra cautious on routes in some parts of Scotland due to the wintry conditions.
Heavy snowfalls and ice caused disruption on Friday evening, with central and south western areas the worst affected.
Police Scotland warned of "hazardous" conditions across Strathclyde and Dumfries and Galloway.
Snow was causing delays on some parts of the M8 and M74, with other smaller road closures.
Traffic Scotland said the A75 near Newton Stewart would remain closed both ways until early evening to allow the recovery of an HGV on its side.
A Met Office yellow be aware warning of snow and ice was in place for almost all parts of Scotland until 12:00 on Saturday.
A further yellow warning was valid for most regions from 16:00 until 10:00 on Sunday.
Scott Lees, network operations manager for Transport Scotland, said: "If you are out there driving you should expect some wintry conditions, a mixture of snow, sleet and perhaps even some hail.
"There's another yellow weather warning that kicks in at 4pm tonight and that's more of the same.
"Our message is drive to the conditions, leave more stopping room, watch you speed and leave room for our gritters which will be out and about doing their job."
A police spokesman said: "If you are travelling on the roads you should ensure you and your vehicle are adequately prepared for the conditions, making sure you have sufficient fuel and supplies such as warm clothing, food and water in the event you are delayed for several hours.
"Charge your mobile phone and plan your route as well as alternative routes."
Road operator Amey tweeted: "A challenging night to be sure."
It said there had been "bottlenecks" on the M8 and A702 but no closures.
Glasgow City Council said following the "priority" gritting of roads across the city overnight, footways, bridges and secondary carriageways were now being treated.
A spokeswoman said: "There are 23 priority routes that cover 50% of the road network including all main bus routes, routes to emergency services and hospitals and roads where the gradient is more than 1:10.
"Another treatment of priority carriageways will begin this afternoon. "
On Friday evening, Glasgow Airport warned of delays and the Rangers v Hearts match at Ibrox was abandoned due to the snowy weather.
The A76 near Cumnock and New Cumnock was closed for a time because of snowy conditions as was the A751 at Stranraer.
Long queues developed on the M80 after three buses became stuck on the A806 towards Kirkintilloch.
The Erskine Bridge was closed southbound because of the conditions but traffic was later allowed to cross.
---
Has your journey been disrupted by heavy snowfall? You can email haveyoursay@bbc.co.uk with your experience.
Please include a telephone number if you are willing to be contacted by a BBC journalist.
Send your pictures and videos, if it is safe to do so, to yourpics@bbc.co.uk or text them to 61124 (UK) or +44 7624 800 100 (international). Or you can upload here.
Read the terms and conditions.
---
Check out the latest travel news for Scotland
Around the country
For the latest on the roads visit the BBC's travel news page and keep up to date with incidents and roadworks on the motorways here.
Around the country you can check for updates from:
Alternatively, for regular travel bulletins listen live to BBC Radio Scotland and follow @BBCTravelScot.
In times of severe disruption you can also follow the BBC Scotland severe weather Twitter list of key sources.
Below are a number of other traffic information sources.
Other links