How Robert Burns was used during World War One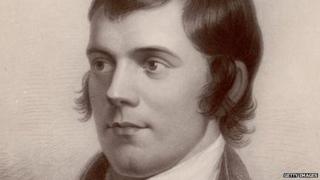 Robert Burns may have been long dead before the guns of World War One began firing but his poems and songs were used in ways that he could not have imagined.
Scots Wha Hae, written by Burns in 1793, takes the form of a speech given by Robert the Bruce before the Battle of Bannockburn in 1314.
It implores Scots to fight for victory against the forces of England's king Edward II.
However, more than 100 years after Burns wrote it, Scots Wha Hae, with its martial sentiments, was being used as part of the recruiting effort for the British Army and it was included in anthologies of patriotic poetry.
"'Scots Wha Hae was used as a song which was seen to be supporting, not necessarily the Scots in the war, but the British war effort," says Dr David Goldie, senior lecturer at Strathclyde University.
Dr Goldie has written on how Burns was used during World War One and gave a lecture on the subject at a recent conference.
He says: "People were able to use the sentiments of the Battle of Bannockburn, a battle in which the Scots had fought the English, and actually turn it on its head and used it as a way of suggesting that if people could harness this patriotic spirit for the British cause then all would be well."
Another example of Burns being used during WW1 is a recruiting poster from 1915 that uses a cameo of Burns and the words of a 1782 poem which includes the line "I'll go and be a sodger (soldier)," to suggest to young men of the time that they should also do just that and join up.
Burns himself had been a member of the Dumfries Volunteers, whose aim was to defend Britain from a possible French attack in the wake of its 1789 revolution.
It was not just the poet's words which were harnessed during WW1 but efforts were made to capture and use his spirit too.
In the early years of the war, one newspaper invited its readers to take part in a competition to imagine a message that Burns might have sent to the German Kaiser.
Cost of conflict
"During and after World War One there's a great increase in spiritualism and people having seances," says Gerard Carruthers, co-director of the Centre for Robert Burns Studies at Glasgow University.
"It's almost as if they're trying to channel Burns, to rewrite Burns but also during World War One Burns begins to be reconstructed as a pacifist figure to some extent.
"In some of his poetry he says people should make love not war, more or less, it sounds very modern."
Prof Carruthers says that not long after WW1, in places like India, Burns began to make his presence felt.
"The Indian Communist Party is interested in Burns as a proletarian poet and to some extent also as a pacifist poet," he says.
Indeed in this country too there were some who felt that Burns had very different things to say about war pointing to poems such as "Logan Braes," which explores the human cost of conflict.
Hard-headed and satirical
Scots Wha Hae was also used by those who wanted to lay emphasis on Burns the radical.
"People could form an interpretation which saw both sides of the question," says Dr Goldie.
"So Scots Wha Hae was both a Scottish patriotic and a patriotic hymn to the working man and the independence of the working man but it could also be seen to represent the independent spirit that Britain was showing against Germany."
For him the very contradictory nature of Burns himself is part of what makes him a great poet.
He says: "He can be sentimental, he can also be hard-headed and satirical.
"This is what I think makes Burns such a joy as a human subject but also as someone who, if one reads him partially, one can find all sorts of support for one's own political point of view but if you take him as a whole he becomes much more problematic."