Care changes: Who will be the winners and losers?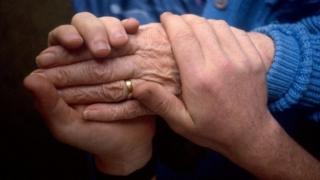 From next April, Scots who have to pay for a place in a care home will find themselves forced to play a game of chance, and the stakes are high.
Governments north and south of the border have introduced different policies concerning the cost of care.
There will be winners, but losers will be tens of thousands of pounds worse off and could even lose their homes.
After April 2016 the difference between Scotland and England will be particularly stark.
Under the present system, most people living in Scotland who need social care are winners compared with their counterparts in England.
'Catastrophic' costs
They are entitled to free personal care: help with washing, dressing and meal preparation.
The total value of this benefit adds up to £8,800 a year for those in a care home, or a total of £12,800 if you need nursing care too.
However, after April 2016, people in England will have their care bills capped at £72,000.
This follows the recommendations of the Dilnot Commission, which found that one in 10 people were facing "catastrophic" costs of more than £100,000.
They will, though, still have to pay care home "board and lodging" costs estimated at £12,000 a year.
This is where the game of chance really begins. If you live in Scotland and have to pay for your care, the chances are you will still be a winner.
According to Scotland's most recent Care Home Census, most people spend two years in a care home at a total cost of £71,000.
Home owners
When you subtract the discount for free personal care they are better off than someone in England.
However, a third of Scottish care home residents have been in care for more than three years. They will be the losers.
The bill for three years' worth of care comes in at an average of £106,000, roughly the point at which people in England will no longer have to pay, depending on the cost of care locally.
It's worth pointing out that only a minority of people pay any care home fees in Scotland.
Presently 70% of elderly Scots get most or all of their costs funded by the state. This is because fewer people in Scotland own their own homes and therefore don't have enough assets to be liable.
However, younger generations are more likely to be home owners.
In future, more of them could be forced to play the game of chance.
The extent of the inheritance they may have hoped to pass on to their children will depend on how long they live in care.