Scots water charges set to rise by 1.6% from April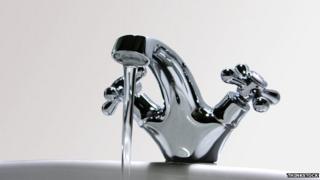 Water charges for Scottish households are to rise for the third year in a row.
Scottish Water said charges will increase by 1.6% from April, working out as about £6 per year for the average household.
The rise means the average water bill for 2015/16 will be £346.
The company said its charges are within recently agreed price limits, and have fallen by 10% since 2009 relative to the rate of inflation.
Customer charges will help pay for a £3.5bn investment the firm is planning over the next six years, aimed at improving drinking water quality, protecting the environment and supporting the economy.
A new agreement between the Water Industry Commission for Scotland and Scottish Water and the Customer Forum has set price limits for the same period.
'Customer certainty'
Under the deal, across the six years from 2015 to 2021 Scottish Water charges must increase by no more than 1.8% below the rate of inflation. However, in the first three years charges can increase by up to 1.6%, irrespective of inflation.
Scottish Water chief executive Douglas Millican said his firm provided "one of the UK's best-value water and waste water services".
He said: "We have listened to the views of our customers in setting our plans for the next six years.
"Our customers expect us to build on the significant improvements we have made to water services for the benefit of all our customers in Scotland as we embark on our new, six-year regulatory period.
"Our customers have told us that they value certainty in their charges over the medium term.
"Today's announcement signals stability in water charges for the coming years and provides certainty for customers.
"It means that, by 2021, household bills will have fallen further in real terms - which is good news for customers the length and breadth of Scotland."
A spokesman from the Scottish government said: "We recognise the pressure on household budgets and the need for stable prices.
"The charge rise for 2015-16 reflects the charges determination as made by the Water Industry Commission for Scotland in November.
"The average Scottish household charge continues to be less than the average household bill in England and Wales by around £40, and is also considerably lower than other utility charges."