Lack of communication on armed police criticised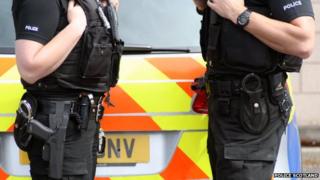 Police Scotland has been criticised for the way it brought in its controversial policy allowing some armed officers to carry out routine duties.
The Scottish Police Authority said the absence of "proactive communications" contributed to public misunderstanding, which continues today.
However, the SPA also said there was some public support for the policy.
Police Scotland has welcomed a number of findings of the authority's inquiry into the issue of armed officers.
Introduced in April 2013, the policy allowing the use of armed officers on routine duties and was criticised by MSPs and councillors last year.
The sight of specialist officers carrying handguns and Taser stun guns on Inverness streets was condemned by some Highland councillors.
'Public impact'
In October, amid increasing criticism, Police Scotland said the officers would only be deployed to firearms incidents or where there was a threat to life.
The SPA has now published the results of its inquiry into the public impacts of the policy.
The inquiry included a public attitudes survey of more than 1,000 people.
The survey suggested that public concerns about armed police may have been "less widespread in Scotland than media coverage and civic comment may have suggested".
It also suggested that 53% of those surveyed supported the deployment of armed officers on routine duties.
But other key findings flagged up Police Scotland's decision not to discuss the use of armed officers in this way with the SPA, local authorities and communities.
The SPA said the force had underestimated the concerns it raised among some people in communities.
It has recommended that Police Scotland engage with the SPA on "all issues which are likely to have a significant public impact".
SPA member Iain Whyte said it was recognised that armed police have an important role in keeping people safe.
'Divergent views'
He added: "But our findings also clearly demonstrate the mixed and divergent views that the issue of deployment to more routine calls and incidents generated among some areas and some sectors of society.
"That is one of the key lessons our findings and recommendations seek to learn from and address.
"Scotland is a diverse country and both Police Scotland and the SPA must consider the diversity of views, experiences and perspectives which exist within its geography and people."
Assistant Chief Constable Bernard Higgins said some of the inquiry's findings highlighted public confidence in policing had remained high during the matter.
He said: "As announced last year, we are reviewing the carriage systems for weapons used by armed officers and the functions they perform when they are not dealing with firearms incidents.
"The differences in specialist firearms protection to communities and unarmed officers prior to the creation of Police Scotland were inconsistent and inadequate, given the evidence and intelligence available.
"By having a small number of specially trained firearms officers available 24/7, we can ensure that all our communities have equal access to this specialist police capability."
He added: "We will now carefully consider the findings and recommendations from the SPA report."