Showdown looms over teacher numbers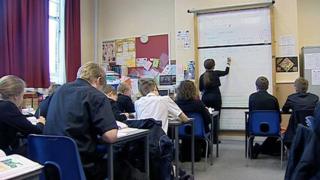 Several councils and the Scottish government are heading for a showdown over next year's budget.
The government and the council body Cosla have been unable to reach a deal over how much money councils get from the government.
If a deal is not reached, the government said it would deal with individual councils directly.
The row centres on whether councils should be given money in return for maintaining the number of teachers.
Carrot and stick
Councils typically get about 80p of every pound they spend from the government.
The Scottish government's budget for the next financial year includes £51m to help maintain the number of teachers.
If teacher numbers still fell, the councils responsible would not get some of that money.
£41m of the money would be available from April - the other £10 million in January, after the annual census on teacher numbers. In effect, a carrot and stick.
Some Labour councils are thought to have been unhappy about the carrot and stick approach and, in effect, being told they had to maintain teacher numbers - even if they felt there might be other priorities in the education budget or other local services.
The total amount of money which the Scottish government intends to give councils in the next financial year is due to be announced on Thursday.
Council leaders will meet at Cosla on Friday to discuss the offer. If they do not accept it, the government said it would have to reach individual deals with each separate council.
Individual councils employ teachers and run state schools. Education, along with social work, is the single biggest service councils provide.
Teacher numbers
Many parts of the budget - for instance teachers' pay - are set nationally but individual councils chose just how much to spend in total.
The number of teachers across Scotland had been dropping and the ratio of pupils to teachers has lengthened.
Full-time equivalent teacher numbers stood at 50,824 last year - 254 fewer than 2013.
But the number of pupils in Scotland's schools went up 3,425 on the previous year to 676,955.
The government sees attempting to maintain teacher numbers as a priority.
For some critics of the government two related issues were at stake.
One was the principle of ring-fencing money - in recent years councils have had much more freedom to decide just how much to spend on particular services.
The other was being told they had to maintain teacher numbers, even where they might have felt there was another priority elsewhere.
Council tax
Most councils are expected to set their budgets for the year next Thursday although if deals are not reached it is possible some may not know by then just how much government cash they will have.
The row threatens to lead to a further deterioration in relations between some Labour councils and the Scottish government.
West Dunbartonshire recently called for an end to the council tax freeze which has been in place since 2007. It is all but impossible for a council to raise the council tax as they would lose government money if they did.
Cosla president David O'Neill said that he was "outraged and appalled" at the actions of Mr Swinney during his budget statement.
Mr O'Neill said: "Local government is a statutory service provided by councils and this is a blatant attempt by government to control it by making these decisions.
"We have consistently argued that focusing on teacher numbers won't deliver the improvements in attainment that we all desire.
"The best people to take decisions on education work in councils not in St Andrews House."
However, Larry Flanagan, general secretary of EIS teachers' union, said: "It is shocking that Scotland's local authorities, through Cosla, are refusing to enter into a new agreement that would maintain the number of teachers working in our schools.
"It seems that, despite Cosla's repeated statements about its commitment to protect education, their objective is to slash education budgets and cut teacher numbers even further - with serious consequences for pupils across Scotland.
"Teacher numbers have already been, quite literally, decimated over the past decade in that there has been a near 10% reduction in the number of teachers working in our schools.
"This sharp decline in the number of teachers cannot continue, or we simply will not have enough teachers to ensure a high-quality educational experience for the pupils in all parts of the country."