Health boards get £282m share of budget funding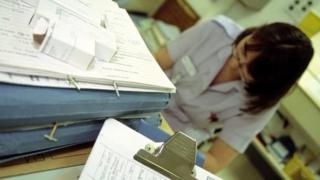 Regional health boards in Scotland are to receive an extra £282m in 2015-16 as their share of the government's budget spending on frontline services.
The 3.4% increase will bring the total allocation to more than £8.5bn, Health Secretary Shona Robison said.
Finance Secretary John Swinney told MSPs last week said that total NHS spending would rise by £383m next year, up to more than £12bn.
The NHS in Scotland has 14 regional NHS Boards.
It also has seven special boards and one public health body.
The special boards include NHS24 and the ambulance service as well as health promotion body NHS Health Scotland.
The Scottish government has also allocated £30m in 2015-16 to reduce delays in discharging patients from hospital.
Ms Robison said tackling delayed discharge was an "absolute key priority" for the government and the £30m, which forms part of a £100m investment over the next three years, was "crucial" to this effort.
'Continuing investment'
She said: "The Scottish government's commitment to increasing health boards' budgets demonstrates our continuing investment in frontline health spending.
"This comes as Scotland's total health spending reaches more than £12bn for the first time ever.
"We're clear that all patients in Scotland should be treated as quickly and as effectively as possible, with the right care, in the right place, at the right time. With this increase in funding, health boards are being given more support to achieve this.
"We know there is still pressure on the NHS and this government is acting to deliver record funding and robust policies needed to support the hardworking and dedicated staff of our NHS."
The health secretary added: "Reducing delayed discharge not only helps individual patients, who benefit from getting home or to a homely setting as quickly as possible, but also helps ease pressure across the system."
Scottish Labour called on health boards to publish their weekly performance statistics when they submit their weekly returns to the Scottish government on Tuesday.
The party's health spokeswoman Jenny Marra said: "The SNP keep re-announcing previous investments to try to distract people from the crisis in our A&E wards and the shocking fact that some pregnant women in the Highlands face a two-hour journey to give birth.
"The experts at the BMA didn't trust the official reporting. When they did their own research they concluded our NHS could fall apart due to staffing shortages.
"We need to move to weekly reporting to get the real story about the pressures our hospitals are under. Health boards should be able to share the information they collect the performance of our hospitals on a weekly basis. It isn't right that David Cameron is four times as transparent on the NHS as Nicola Sturgeon."