Scottish council budgets: Councillors face tough decisions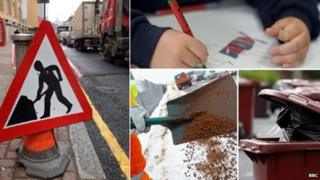 Many of Scotland's 32 councils have been meeting to set their budgets for the coming year.
Protesters from the Edinburgh Trade Union Council lobbied councillors in the capital over spending cuts, which they fear will damage local services.
Similar meetings were held in local authorities ranging from Aberdeenshire to the Borders.
Several councils had already set their budgets, while Glasgow City Council is among those which will do so next week.
Local government body Cosla said councillors across the country were facing "tough choices" as they decided what to spend their money on.
Among those meeting on Thursday was Moray Council, which warned of "tougher times ahead" as it set a total revenue budget of £197.9m for 2015-16.
Elsewhere, Aberdeenshire Council said it planned to cut spending on road maintenance, street lighting and care of the elderly in a bid to make £3.6m of savings.
But in the Borders, council leader David Parker said the local authority was not faced with the same level of savings that many other councils as he announced a revenue budget of £254m for next year.
'Ongoing challenges'
Fife Council said it has set a "budget for difficult times" as it faced demand for services and a budget gap of £77m over the next three years.
But it said councillors had agreed a budget that closed almost half of that gap while at the same time "reinvests savings to meet rising demand and other pressures."
In East Renfrewshire, councillors said they would make "significant changes to the way services are delivered" in order to meet a funding gap of about £22m, but insisted that many of the changes would be for the better.
Angus Council agreed a budget for 2015/16 which contained £5.6m of savings despite opposition from a number of non-administration members. A further £6.8m of savings are expected in 2016/17.
And in the Western Isles, Comhairle nan Eilean Siar said it must make savings of £8.2m over the next two year as it unveiled an annual budget of £111m.
As a general rule, councils get about 80p of every pound they spend from the Scottish government, with the government giving councils almost £11bn between them.
Most of the remainder comes from the council tax, which has been frozen across Scotland since 2007.
It would not be practical for councils to increase it as they would then see a reduction in government money allocated to them.
This means that any increase in council tax would have to be significant before it actually put more money into the council coffers.
While John Swinney has allocated more than £10.85bn for councils in his budget for 2015-16, the deputy first minister has angered some local authorities by insisting that they must agree to maintain teachers' numbers if they want to receive their full cash settlement from the Scottish government.
A total of £51m has been set aside for this, but Mr Swinney has warned local authority leaders they will only get their share of this cash if they sign up to "a clear commitment to protect teacher numbers".
Cosla said it was "outraged and appalled" by Mr Swinney's stance, while Labour's Mark Macmillan, the leader of Renfrewshire Council, has argued the money was insufficient and would only allow the authority to employ a further seven teachers.
'Constrained resources'
Cosla president David O'Neill said: "Despite the financial difficulties and extreme budgetary pressures local government feels year on year, Scotland's councils, based on their individual need and local priority, do their utmost to protect frontline services and ensure to the best of their ability that the service user does not suffer.
"However it is both fair to say and blatantly obvious that this is getting tougher every year and really, really tough decisions are having to be taken by Scotland's councils."
When he announced the amount individual councils will receive from the Scottish government last week, Mr Swinney said he was providing them with "a total funding package worth over £10.85bn to deliver services that enrich our nation".
The deputy first minister said: "This government has worked closely, and will continue to do so, with councils to agree an overall funding settlement and package to help maintain and improve these services."
Speaking to the BBC's Good Morning Scotland programme on Thursday morning, Mr Swinney added: "Like all other organisations in the public sector, they (councils) have to live within the constrained resources that are now available to the public sector.
"In almost every circumstance, local authorities will engage in dialogue with a whole range of different organisations and stakeholders within the community to come to their decisions.
"I think it's important at all stages that local, as well as national government, engages closely with the discussion and the debate about priorities in every locality in the country."
But trades unions believe that, in the long term, local taxes will have to increase.
Efficiency savings
STUC deputy general secretary Dave Moxham told Good Morning Scotland that he believed the Council Tax freeze ought to be lifted in order to avoid further spending cuts.
He said: "It seems to us that there is almost a conspiracy of silence about the absolute impact that these cuts are having on individuals.
"We need to see the council tax increased and we need to start a proper debate about how we fund local government."
A long-standing formula allocates the money between councils, which means a few will receive less in absolute terms than last year.
Generally, councils are seeking to make savings in two ways. One way is to look at so-called efficiency savings, where losing staff or changing the structure or the way a service is delivered can help save cash. This could be by investing in new technology, restructuring a service or moving to share it with a neighbouring council.
The other is to simply cut spending on a particular service.
However, efficiency savings often cost money at first, and the savings take years to deliver.
Last week Labour-run West Dunbartonshire was forced into a U-turn over a plan to cut school hours to 22.5 hours a week - a proposal which has also been looked at by a few other councils.
But within 48 hours of announcing the plans, which provoked a fierce local backlash and a threat of industrial action, the council dropped the scheme.