Office syndicate wins £1.1m on lotto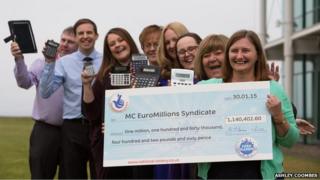 A syndicate of 17 mortgage centre workers has won £1.1m on the lottery.
Each of the group from the Royal Bank of Scotland Mortgage Centre in Greenock will receive a £67,082.50 share of the win in the EuroMillions Mega Friday draw which took place on January 30.
It took a week for the syndicate to discover they had won as they normally check the tickets on a Friday.
Some of the group now plan to use their winnings to help with a deposit on their first homes.
Syndicate leader Margaret Kane, 46, said: "Every Friday I take our tickets to the shop and get the assistant to check them on the machine.
"It was only when she said that I had to contact Camelot that I knew we'd won something big.
"She made sure I signed the back of the ticket before I left the shop which was clever thinking because my mind was spinning by then.
"As soon as I got back to my desk I called The National Lottery and the girl told me how much we'd won."
'First homes'
She said news of the win had spread through the office "like wildfire".
Ms Kane added: "A lot of the girls on our team have been saving to buy their first homes, and now they have enough to put down a sizeable lump sum - how ironic when we all work in a mortgage advice centre.
"The members of our syndicate range in ages from 29-59. This money will literally change the lives of 17 families in Greenock. It really is amazing.
"The atmosphere in the office has been amazing ever since we realised we had won and no-one can believe it's so much.
"It's funny because one of the girls who was going to be off for a few days said to me to call her if we won any millions over the weekend, and we did. She didn't believe me when I called her."
The group started playing as a syndicate in 2009 "for a laugh". The winning ticket was bought from Spar at 59 Princes Street in Port Glasgow.
Their winning EuroMillions Millionaire Maker code from the Mega Friday draw was QKW360920.
Eight of the 17 members of the syndicate opted to take publicity - Margaret Kane, 46, Norma Clarke, 59, Kelly McGloin, 35, Sandra Wilson, 57, Jan Gault, 29, Morag Douglas, 55, Barry Speirs, 39, and Stephen McCauley, 45.