Kirk Moderator meets Pope Francis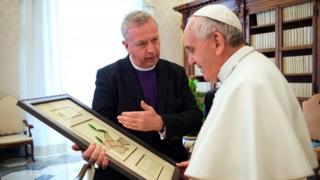 The Moderator of the General Assembly of the Church of Scotland has met the Pope at the Vatican.
Both the Right Reverend John Chalmers and Pope Francis condemned terrorist attacks in Libya and Denmark.
The moderator also told the pontiff that people of faith in Scotland would welcome him with open arms if he was able to visit.
He said the relationship between the Roman Catholic church and the Church of Scotland had never been more cordial.
He said both faiths could take the lead in teaching tolerance.
The meeting followed the beheading of 21 Christian hostages by militants linked to Islamic State (IS) in Libya and two deadly shootings in Copenhagen, Denmark.
Speaking after the private audience, the moderator said: "We shared our concerns over the terrible attacks at the weekend and spoke of our joint belief in the power of co-operation against a background of challenge and increasing radicalisation in the world.
"We agreed to work for peace through our common faith and I expressed a hope that a pastoral visit by His Holiness to Scotland would be appreciated by all faiths."
Mr Chalmers also spoke of their shared concern about climate change, describing it as the "most pressing issue in human history".
He said its effects were "most keenly experienced by the poorest of the world's poor".
The moderator presented Pope Francis with a Dove of Peace made by a Palestinian Christian Group in Bethlehem.