Ewan McGregor to direct American Pastoral film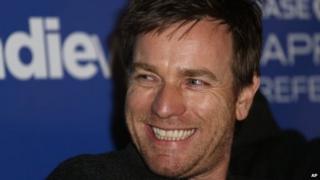 Scottish actor Ewan McGregor has signed up to direct his first film - an adaptation of Philip Roth's Pulitzer Prize-winning novel American Pastoral.
McGregor will also star as Seymour "Swede" Levov in the film, alongside Jennifer Connelly and Dakota Fanning.
He said that working on the movie would be "a great privilege".
McGregor, from Crieff in Perthshire, is best known for his roles in Trainspotting and the Star Wars prequel trilogy.
He told Variety: "I've wanted to direct for years and wanted to wait until I found a story that I 'had' to tell, and in this script I knew I had found that story."
Tom Rosenberg, chief executive of film production company Lakeshore, said: "Ewan's talent goes far beyond his on-screen work, and we're excited to be working with a director who is as passionate as we are about telling the story of American Pastoral."
Filming on the project is expected to begin in the US in September.
Published in 1997, American Pastoral follows the story of Levov, a once legendary high school athlete whose life is turned upside down when his daughter becomes radicalised during the Vietnam War.