Scottish university principal wants tuition fee debate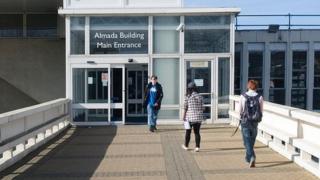 A university principal has claimed that Scottish university leaders are afraid to call for the introduction of tuition fees.
Prof Craig Mahoney of the University of the West of Scotland (UWS) made the comments to Times Higher Education.
But the students' association at his university claimed staff and students were losing confidence in Prof Mahoney.
The Scottish government sees free university tuition as a right and a point of principle.
But Prof Mahoney told Times Higher Education that fees were "not talked about very often" among principals. In a "close-knit" country like Scotland, he said, "opposing government policy isn't always welcomed".
He added: "I believe this is a conversation we have to have; I believe there is an appetite to discuss this. But the concern is, if you are seen to be affronting current government policy, that may cause problems."
Prof Mahoney argued that grants from the Scottish Funding Council provided the equivalent of about £8,000 per student at best, leaving his institution with a multimillion pound shortfall compared with English institutions.
'Consumerist ideology'
Prof Mahoney recently suggested that refunds should be offered to non-European Union and English fee-paying students who fail to complete their courses.
But the Students Association at UWS took issue with the principal.
In a statement they said: "Students at UWS and across Scotland have consistently rejected the idea of tuition fees. This consumerist ideology creates unnecessary barriers to education. We firmly believe that the reintroduction of tuition fees is wrong - morally and economically.
"UWS is one of the best institutions for opening its doors to students from widening access backgrounds. The reintroduction of tuition fees would hit this group the hardest and our students are becoming angry and confused by our principal's continued calls for the reintroduction of tuition fees."
They added: "The Students' Association and its members believe education is a right not a privilege and that students and staff at UWS are losing confidence in the principal over this matter."
The statement ended by saying they would encourage Prof Mahoney to visit a monument recently unveiled by former First Minister Alex Salmond at Heriot-Watt University in Edinburgh to mark the abolition of tuition fees and reflect on the words engraved upon it.