Most Scottish councils agree deal on teacher numbers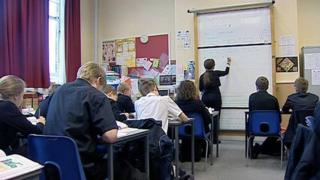 BBC Scotland has learned that 31 of Scotland's 32 councils have agreed not to cut teacher numbers in return for cash from the Scottish government.
Councils had until Friday to respond to the government's funding offer.
Local government body Cosla said many were unhappy and only agreed because they had no realistic alternative.
The government offered councils £51m to maintain teacher numbers but said it would claw back cash if teacher numbers dropped.
All the large councils have accepted the government deal.
Education Secretary Angela Constance said talks were continuing with one remaining local authority, which has not been identified, on the issue, while others have indicated they will sign up to individual agreements,.
Ms Constance said: "Talks with local authorities have been positive and productive and we are pleased that we are working together to provide the right number and highest quality of teachers in our schools. This will ensure our pupils have the best education possible.
"Teacher number commitments have been part of the local government finance settlements since 2011/12. We are offering councils £51m - including an additional £10m over and above last year's settlement - specifically to support teacher numbers."
'Hobson's Choice'
Cosla president David O'Neill said: "It is fair to say that very few councils have signed up to their individual deal with a spring in their step and it is both wrong and totally misleading to present this in this manner. Put simply, councils have been left with Hobson's Choice and I cannot allow the Scottish government to traduce Cosla.
"With a gun to your head, it is difficult to make the decisions you might otherwise want to make. Councils once again were left in the invidious position of having to accept this deal or face the most unpalatable of punitive measures."
The deal was welcomed by the EIS teaching union, which it said was "good news for pupils, parents and teachers and for Scotland's educational future".
The union's general secretary Larry Flanagan added: "This announcement should also finally put to rest any ill-conceived plans at council level for damaging proposals such as cutting the length of the school week.
"With agreement on the funding to maintain teacher numbers now in place, there is no argument nor justification for any council to still be considering attacks on the length of the school week in order to cut costs.
"Our pupils, in all parts of the country, deserve the same high quality of educational experience and the EIS calls on any council that still has plans to reduce pupils' learning time to rule out this damaging cut once and for all."