SNP calls for pre-election civil service contact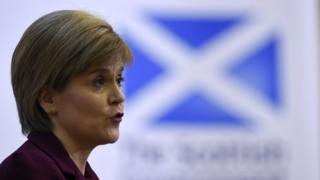 Scotland's First Minister Nicola Sturgeon has called for her party to be included in pre-election talks with the civil service in Whitehall.
The SNP leader has written to top civil servant, Sir Jeremy Heywood, saying all parties who have MPs elected could be involved in the next UK government.
Ms Sturgeon said policy briefing contact should go beyond the main opposition party.
The Cabinet Office said it would respond "in due course".
Ms Sturgeon said polling evidence indicated a hung parliament would be the outcome of May's general election.
She said that could mean political parties with a presence in the House of Commons may be in a position of power and influence.
By convention, opposition parties are entitled to enter into confidential discussions with senior civil servants in the run-up to a general election.
Such discussions must be sanctioned by the prime minister of the day and are usually limited to the parties that could form a government at Westminster.
The talks are intended primarily to allow potential ministers to familiarise themselves with aspects of departmental organisation.
And they allow opposition MPs to inform civil servants of likely changes to the machinery of government if they are elected.
Ms Sturgeon said she understood that Prime Minister David Cameron had written to Labour's Ed Miliband last year offering such pre-election contact.
Her letter to Cabinet Secretary Sir Jeremy said: "The SNP programme includes a substantial alternative to the austerity cuts supported by the UK Westminster parties, cancelling the renewal of the Trident nuclear weapons system, and a requirement that each and every constituent nation of the UK would have to vote to leave the European Union in any in/out referendum before the UK could exit.
"These and other policies which we will seek to advance in the next parliament are obviously of UK-wide application, and I believe that the Whitehall system would benefit from becoming more familiar with our propositions."
Ms Sturgeon called on the Cabinet Secretary to follow the lead of the Scottish Parliament.
In 2011, the then First Minister Alex Salmond authorised offering pre-election contact to all political parties represented at Holyrood.
She said: "Given the likely continuance of a hung parliament situation in the House of Commons, I believe that in advance of this general election it is time for Westminster to move towards the higher, more inclusive standards which prevail in the Scottish Parliament."
A spokeswoman for the Cabinet Office confirmed the letter had been received.
She said it was a matter for the prime minister and the Cabinet Office would respond to the SNP leader "in due course".