Andy Coulson faces perjury trial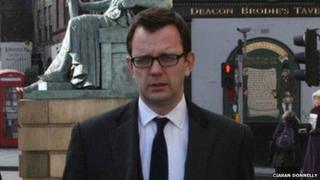 Former Downing Street communications director Andy Coulson is to stand trial in Scotland on a charge of perjury.
The trial is in connection with the trial of Tommy and Gail Sheridan in December 2010 at the High Court in Glasgow.
Mr Coulson, 47, a former editor of the News of the World, attended a day-long pre-evidential hearing at the High Court in Edinburgh.
It fixed a trial date of 21 April.