Mary, Queen of Scots to get first statue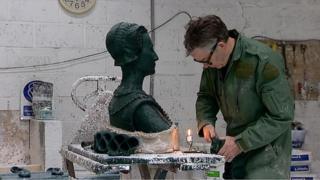 Her life was full of murder and intrigue and she is famous across the globe. But there has never been a public statue of Mary, Queen of Scots in the country of her birth.
Her life has inspired many film scripts and novels but no public monuments.
She became queen of Scotland when she was six days old but spent most of her childhood in France.
On her return her brief reign resulted only in disastrous marriages, murder and war.
She gave up the throne at the age of 24 and was a prisoner in England for most of the next 20 years until she executed on the orders of her cousin, Queen Elizabeth I.
Now, more than 400 years after her death, the monarch, whose son, James, became king of Scotland and England, is finally to have a monument to her erected in Scotland.
The statue will be unveiled later this spring but work is under way at Powderhall foundry in Edinburgh on a queen who has been notable by her absence.
David Annand is the sculptor working on the statue.
He said: "A wax cast is made of the clay from moulds and then we'll cover this in a fireproof material and put this into a furnace and burn out the wax.
"There will be a void left where the wax was and then that will be filled with molten bronze."
When it is completed, the bronze statue will be larger than life size at more than 7ft tall.
The campaigners who raised funds - and attention - think a monument to Mary is long overdue.
Margaret Lumsdaine is the president of the Marie Stuart Society which began a campaign two years ago to have a statue.
She said: "I think it was a gross mistake for generations not to have recognised her. She was our last sovereign queen."
Its new home will be at Linlithgow palace, where Mary was born in 1542.
According to Dr David Mitchell, who is Historic Scotland's director of conservation, this location seemed to be "entirely appropriate."
"What's particularly interesting about this proposition - and we considered it very carefully- is it's a very traditional statue and we insisted that it was undertaken using traditional construction techniques. Our apprentices have been involved.
"But it's also been cast in the same way that statues have been cast for literally thousands of years."