Past, present and future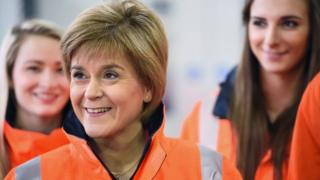 Tony Blair used to tell a story of meeting a voter during one of his campaigns for re-election. He had embarked on his standard litany of the benefits he believed his administration had generated for the people.
"Aye, we know all that," chipped in the voter, "What are you going to do next?" The former PM confessed he felt somewhat exasperated for a second.
But then he thought again. The voter was right. Electoral politics is about the future, not the past. A manifesto which dwells too much on historic endeavours is unlikely to find favour.
Thus reaction to Nicola Sturgeon's first hundred days in office has been decidedly influenced by another calendrical consideration. The small matter of the UK general election, due in 69 days.
Social equality
The first minister herself headed home for her hundredth day, back to Ayrshire where she was born and raised. She met apprentices at a factory, taking the chance to stress her belief that young women should seek such posts.
Her objective? To add another element to her argument that social equality can and should be married with economic growth; the theme she has pursued since taking office.
Her wider objective? To argue that sectors of society are being left behind despite the rising tide of employment, that there are low wage and zero hours contract jobs which leave the recipients beached.
Her wider objective still? To translate that into an alternative to the economic strategies advanced by her principal rivals - with an eye, of course, to that UK general election.
Her opponents say her narrative is bogus in the context of that UK contest; that the SNP remain obsessed with the aim of independence which, those critics say, would be economically damaging for Scotland.
In response, Ms Sturgeon's rivals each suggested that she might usefully amend her ways in the next 100 days and beyond.
Political outlook
Labour's Jim Murphy said that the FM was neglecting a growing crisis in the NHS, notably in A&E. This was Kezia Dugdale's theme at Holyrood yesterday.
Expect more of this - much more - in the run-up to the May election even though control of the NHS is devolved to Holyrood (as Labour repeatedly stressed, in different circumstances, during the referendum).
Willie Rennie of the Liberal Democrats said that the SNP's continuing pursuit of independence meant that the Scottish government had "taken their eye off the ball" with regard to issues such as the NHS, college places and police reform.
And the Conservatives? Jackson Carlaw admitted he rather liked Nicola Sturgeon, personally. But he found her political outlook rather "statist".
More generally, he said she was very well briefed but lacked an evident sense of humour. Just like, he said, another political leader. (Clue: she entered Downing Street in 1979.)
He said it with a wry smile. Despite that, I am not entirely sure Nicola Sturgeon will rejoice at the comparison.