Armed officers have 'stopped' drink drivers, police say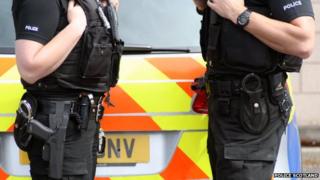 Armed police officers have stopped drink drivers and helped search for missing people, MSPs have been told.
Holyrood's Justice Committee heard evidence on Police Scotland's controversial policy of armed officers carrying out routine tasks.
Senior officers said since October 2014 armed officers had "engaged with the public" on 1,644 occasions.
But they said a review of the policy was currently being undertaken and was close to being finalised.
It follows controversy about armed officers performing routine tasks with their guns in open view.
'Proactively engaged'
Assistant Chief Constable Bernie Higgins told the sub-committee on policing there were currently 268 officers on full-time duties in armed response vehicles (ARVs).
He said a further 270 officers had firearms authorisation.
He said ARV officers had been involved in 1,644 instances where they had "proactively engaged with members of the public".
ACC Higgins said: "That will include charging people for offences such as dangerous driving, drink driving and other such like offences."
He added there were other occasions when they had assisted divisional officers, for instance in a missing person search, but he could not provide specific figures.
Liberal Democrat Justice spokeswoman Alison McInnes said: "The assurances that we have had that police officers are not out on routine issues is given the lie by these figures."
She said police officers carrying arms were interacting with citizens in situations that were not life-threatening.
ACC Higgins said in the first year of Police Scotland (2013-14) the figure was more than 30,000.
The force has been criticised for the way it brought in its controversial policy
Condemned
The policy, allowing some armed officers to carry out routine duties. was introduced in April 2013.
It was initially condemned by some Highland councillors alarmed at seeing specialist officers carrying handguns and Taser stun guns on Inverness streets.
Amid increasing criticism, Police Scotland said in October that ARV officers would only be deployed to firearms incidents or where there was a threat to life.
In January, the Scottish Police Authority (SPA) said the absence of "proactive communications" contributed to public misunderstanding, which continues today. However it also said there was some public support for the policy.
ACC Higgins said Police Scotland had been carrying out its own internal review of armed policing, which would be provided to the SPA board meeting on March 31 following discussions at senior level.
But the Justice Committee convener, Christine Grahame, attacked the SPA, which oversees the force.
She said it did not seem to know what it ought to have been doing in terms of scrutiny and accountability.
"The SPA was not actually on the ball and not insisting that when things came ahead, big decisions like this, that they were in the game at the beginning."