A&E targets missed in last week of Feb, NHS figures show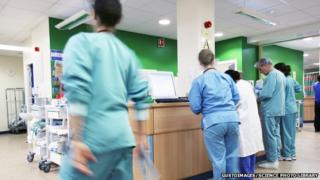 The latest weekly waiting times for Accident and Emergency departments suggest there has been little improvement against Scottish government targets.
An interim target has been set for 95% of people to be treated and discharged within four hours.
Figures released for the last week in February suggest 86.9% of people were treated within this time.
That compares to 86% during the previous week.
The figure is the same as that for England during that week.
Accident and Emergency waiting times cover the length of time patients wait to be seen, treated and discharged.
Stringent targets
Clinicians point out that most people are assessed very quickly, but may wait longer for tests or scans, or for admission to a bed in another part of the hospital.
Scotland has the most stringent waiting time targets for A&E departments in the UK.
The 14 NHS boards are expected to see 98% of patients within four hours.
There is an interim target of 95% which means most boards are aiming for this.
Since 16 February, data has been published weekly. Prior to that it was published quarterly.
---
During the week ending Sunday 1 March:
There were 25,448 attendances to Scotland's 32 emergency departments
The proportion of attendances to those departments that were seen and subsequently admitted, transferred or discharged within four hours was 86.9%
A total of 578 patients spent more than eight hours in A&E and 186 patients spent more than 12 hours in the 32 departments.
---
Notes
Scotland also publishes emergency admissions of patients from A&E every quarter.
Figures on delayed discharges are also collected - similar to days lost to beds blocked.
From April 2015 a new target for delayed discharges is being set. It says no patient should wait more than 14 days to be discharged from hospital into a more appropriate care setting once treatment is complete.
Norovirus weekly updates on wards or bays closed in hospitals are published by Health Protection Scotland.