Glasgow campaigners march against racism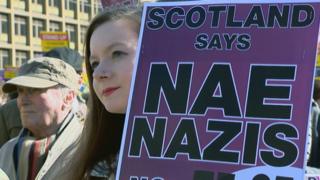 Hundreds of anti-racism campaigners have marched through the centre of Glasgow.
The event was organised by the Scottish Trade Union Congress (STUC) and other groups to mark UN Anti-Racist Day.
The campaigners gathered in the city's George Square, where they heard speeches before marching through the streets.
Similar events were held in London and Cardiff, as well as in cities across Europe.
STUC general secretary Grahame Smith said the march was intended to highlight the rise of extreme right-wing groups across the continent.
'Clear focus'
Mr Smith said: "With austerity putting severe pressure on living stands, right wing parties are using people's genuine insecurities to sow seeds of racism and division.
"Major incidents like the Charlie Hebdo attacks, the killings in a Jewish supermarket and the rise of Pegida - an explicitly anti-Islamic organisation which managed to draw thousands of Germans on to the streets - require from us a clear focus on anti-racism.
"The UK is currently embroiled in one of the closest elections in its history. It is imperative that this election reflects our values of equality and diversity."
Mr Smith highlighted the recent comments made by UKIP MEP David Coburn, in which he compared SNP MSP Humza Yousaf to convicted terrorist Abu Hamza, as evidence that the election campaign had already been marred by racism.
He added: "Such comments are unacceptable and show how necessary it is that Scots come together to reject racism and send a clear message about the sort of society we want to build."
Meanwhile, a protest by a far-right group in Edinburgh failed to happen.
The organisers had claimed to be linked to the Pegida organisation, which has held mass protests in Germany against what it believes to be the "Islamisation" of Europe.
Police and council workers had put barricades outside Holyrood Palace and the Scottish Parliament in anticipation of the rally by the right-wing group, and United Against Fascism protesters turned out to hold a counter-demonstration.
But it is believed the Pegida rally was called off due to a lack of numbers.
A Pegida UK rally in Newcastle last month was reported to have attracted about 400 supporters - who were outnumbered by 2,000 anti-racist demonstrators.