Renowned conservationist Dick Balharry dies after receiving award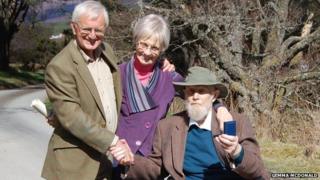 The renowned Scottish conservationist Dick Balharry has died aged 77.
His death, following a battle with cancer, came just days after he was honoured by the Royal Scottish Geographical Society (RSGS) for his services to conservation.
Mr Balharry, who was born on the outskirts of Dundee, became chairman of the John Muir Trust in 2003.
He later served as interim chairman of the National Trust for Scotland.
His early working life had been as a gamekeeper and warden of the National Nature Reserve at Beinn Eighe in Wester Ross.
On Saturday, Mr Balharry was awarded the Royal Scottish Geographical Society's Geddes Environment medal in recognition of his outstanding contribution to conservation.
RSGS chief executive Mike Robinson said: "Dick was a warm and generous character and a relentless and passionate advocate for improving and protecting Scotland's natural landscapes.
"He has influenced, advised, inspired and encouraged so many people and organisations across the whole of the biodiversity and land management community."
Mike Daniels, Mr Balharry's long-term friend and head of land management at the John Muir Trust, added: "Dick was an inspirational personality, a conservation pioneer who in words and deeds showed how Scotland's land could and should be managed for nature, wildlife and people.
"It is measure of his courage and dedication that even in the last precious days of his life, Dick delivered a strikingly lucid and eloquent statement to the Royal Geographical Society setting out a powerful and convincing vision for the future of Scotland's wild uplands."