Scottish Comedy Awards: Still Game toasts double success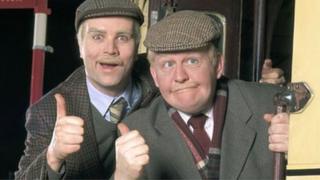 The return of Still Game has won prizes for Best Event and Best TV Show at the second Scottish Comedy Awards.
The Opening Ceremony of the Commonwealth Games - John Barrowman and dancing Tunnock's teacakes - was also among the nominees for Best Event.
Other winners included Kevin Bridges for his TV performances and Frankie Boyle for his Referendum Autopsy show.
The Stand comedy club's Aye Right? How No? Referendum Night satirical show also won an award.
Still Game returned with a 21-night live show run at The Hydro in Glasgow after seven years, with the performance broadcast on the BBC late last year.
The Scottish Comedy Awards were set up last year by promoter Alan Anderson as a reaction to what he said was years of Scottish acts being ignored at the British Comedy Awards.
More than 200 Scottish comedians, promoters, producers and journalists voted in the awards, which were hosted by Still Game's Sanjeev Kohli and River City's Tom Urie.
In other categories Breakfast with Des and Jenni was named best radio show, Darren Connell won Best Comedy Actor for his role in Scot Squad and Gary Meikle was named Best Newcomer.